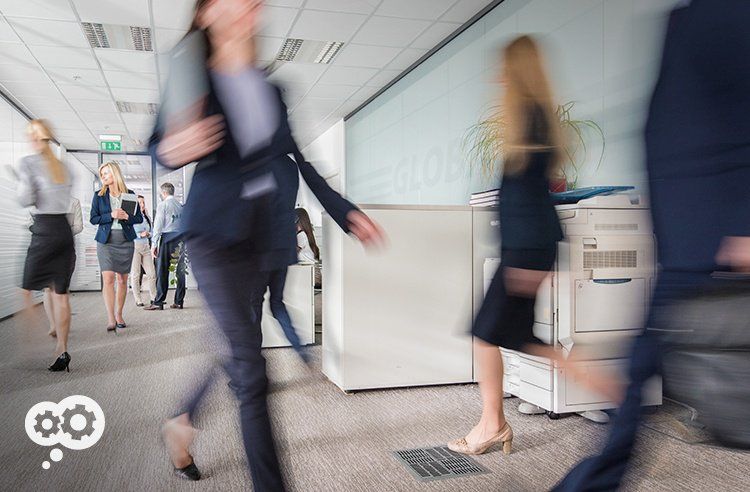 Working anywhere is a reality. Another reality, the "boring" digital copier enables that reality.
I've been writing about the value and productivity benefits of your digital copiers for quite a while now. I've learned a lot in the past few years writing these posts (and I hope you have too!).
I recently saw the infographic (see below) from Konica Minolta. It's called the "Workplace of the Future." It struck me that while we're always looking to "what's new and next" (especially when it comes to technology) that it's often the tried and true technology that we rely on to run the core of our businesses. Document management, helping to manage change, our networks, and, yes, even copiers aren't outdated (though they've all been around for decades) – and they'll continue to play a role in the workplaces of tomorrow long after I retire.
The Need to Keep Printing
As a new generation enters the workforce, and one more comfortable using digital devices to read and share information, the use of paper is declining. However, there's been talk about "the paperless office" for decades now. While reliance on printed documents will decrease over time, I don't think we'll see "paperless" business (at least for quite a while). I DO think we'll get to a "less paper" office and businesses will continue to need to print and copy documents decades from now. Who knows, maybe in the future we'll get to a point of functional reusable paper or everyone will learn to scribble and jot ideas on a screen.
But until we get to virtual reality, where you can blow up an image in 3D (think the hologram computer scenes in the movie Iron Man); it's hard to replicate the ability to spread notebooks and scraps of ideas in front of you and start to pull together ideas from that structured chaos.
It's hard to do that without paper.
Your copier is going to be around a while. Invoices will still need to be printed and mailed. Companies resistant to digital signatures will want signed hard copies for contracts. Postures and brochures are still going to be needed for marketing.
And the ability to use mobile printing to securely print is a productivity boost and in tune with this idea of work on the move.
The Central Importance of Documents
Every business relies on documents. Managing those documents so they can be found, used, and even saved as records is the focus of document management software (the infographic uses the term "enterprise content management" which is a broader term than document management, though there is quite a bit of overlap between the two).
So long as paper enters your office, your digital copiers can be the front-end of process automation and document management.
And when it comes to sharing paper coming into your office, the ability of your digital copier to scan those documents to email or to scan those documents to SharePoint or the cloud keeps those documents moving.
You Need a Secure Network
A secure network enables you to work anywhere. Managing a network is a difficult task and one that can be outsourced to a IT managed services partner. You don't have to invest in staffing, equipment, and monitoring on your own. You can partner with a company that can provide those capabilities to you – often for less money than you'd spend to do it yourself and for better, more responsive security.
Do you need to work on the move? If so, I encourage you to take a look at the infographic – it might give you some ideas about the future of work for your office (and remind you that old school technology is still the foundation of this future).
So long as there is paper, digital copiers will enhance productivity in companies – allowing communications via paper or electronic documents as needed.