Laser Printers
Don't just "get a printer," get the right laser printers for your Dallas, Fort Worth business.
We all need to print documents – invoices, marketing materials, contracts, or simply to read without having to look at a screen. But, just because it's easy to acquire laser printers, doesn't mean that it's easy to find the right printer for your business.
Datamax proudly offers award-winning, high-performance black & white and color laser printers in Dallas with a full range of speed and capacity. Our Dell, Lexmark, and HP printers deliver one of the industry's lowest total costs of ownership (TCO) and provides toner costs that are often substantially less than those of competing manufacturers.
In addition to a low TCO, our Dell, Lexmark, and HP printers can provide you with:
High-resolution black & white and color image quality
Maximum performance, productivity, and reliability
Advanced networking tools and drivers
Cross-platform compatibility
Laser printers with wireless connectivity
Crisp color printing makes your documents stand out in a crowd:
True resolution color and black & white image quality
Consistent full-color images through automatic color calibration
Advanced toner for clearer prints and sharper output
High-performance speeds
Versatile media handling with advanced finishing options
Datamax provides laser printers for all types of environments – from small workgroups to large-scale enterprises. For larger printer fleet requirements, consider first engaging Datamax for a print assessment or a more exhaustive print audit to help you establish the right plan for fleet deployment, print control, and print cost reduction – right from the start.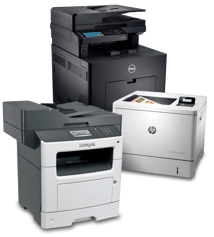 Contact us to learn more about our inventory of Dallas laser printers, HP Printers, and our least-cost printing approach today!