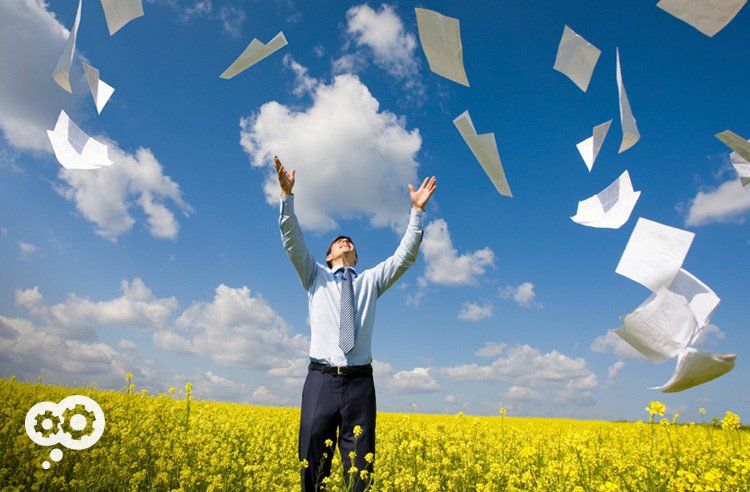 Use your office copier to scan documents directly to cloud storage for quick and simple access later.
Even if you don't follow technology at all, you've heard of "the cloud." Often mentioned with a touch of reverence and a hint that the cloud will solve your technology challenges, cloud services really can bring huge personal and business productivity improvements when used correctly.
Essentially, the cloud means that your application (like Office 365, iTunes, or personal productivity tool Evernote) or information/documents "live" on a third-party hosted platform, not on your computing device (smartphone, laptop, PC, or tablet), and you access a cloud service via the Internet. As with anything IT-related, the cloud becomes more complicated the deeper you dig into it.
I'm going to focus on a quick way the cloud can bring value to your office.
What's this got to do with your copier? You can use your copier to scan documents to the cloud for later retrieval.
Before going further, I encourage you to be sure that you scan to secure and IT-approved cloud services. Access to documents will help you get your work done, but should be done in a secure environment to prevent sensitive company information from becoming public.
Scan to the Cloud
Using your copier to scan to the cloud is straightforward (the specifics WILL be different for different models and manufacturers, but the basic steps are similar).
Here's what you do:
Select a document or documents to scan
On the control panel, select the destination
Scan your document
Your document is now accessible in the cloud and retrievable wherever you have an Internet connection
Common cloud destinations are Box, Dropbox, Evernote, GoogleDrive, and document management repositories (such as Laserfiche or Canon's Therefore). Other scanning destinations could be email, a shared drive, or an FTP site.
Why Scan to Cloud?
In a word: Access. Documents stored in Box, Dropbox, Evernote, GoogleDrive, etc. are accessible through any of your devices without having to go through your office VPN. If you have an idea for that presentation, but you're not in the office – you can quickly access and update a document at home or in the checkout line at the grocery store.
And Vice Versa
You can also print from the cloud too. So let's say your update to your document while in the checkout line was the finishing touch. You decided to print to your office copier. And, since you have follow me and secure printing, you can release that document from your copier in the morning when you get in, so that it's not just there in the output tray for anyone to read.
Of course, you need to have accounts with the cloud services to scan to them – and permission from your IT department!
Scan to cloud is a great way to expand the use of your copier and make accessing and sharing information easy.
Check out your copier now for this functionality. If you'd like us to walk you through it, get in touch with us.
Want to know more about ensuring you have the right office equipment for your office? Click on the image below.