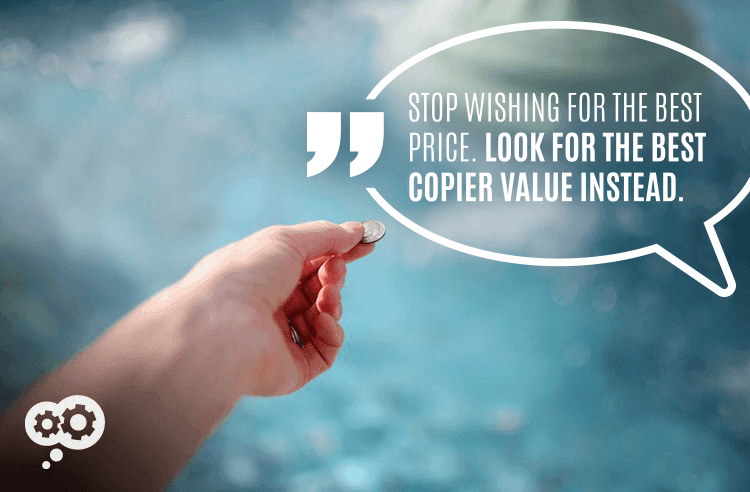 If cost is your only consideration when buying a copier, you're probably hurting your business.
How much does a copier cost? Where can I buy a color laser printer? What's the cheaper copier near me? Cost and price often dominate how businesses think about their office equipment – how can I pay the least amount possible?
While being fiscally prudent is always a good idea, focusing on price – and ONLY price – gets businesses into trouble.
Value is more important.
You've heard the expression, "Penny-wise, pound-foolish." As with so many things in life, looking for short-term cost savings when buying office equipment can cost you more in the long run. Here are a few examples of how a fixation on price can hurt your business:
The "cheapest" copier doesn't meet your volume needs. Because it's outputting more documents than it's rated for, it requires more frequent maintenance and will wear out faster (meaning you'll have to replace it sooner). Not to mention the productivity hit your office takes while the copier is being repaired.
Your "lowest cost" color printer uses ink rather than toner and costs more to operate.
That "cheap" copier you bought on eBay? How are you getting it into your office? How much time will it take your IT department to add the device to your network and get the controls set up and operational?
We focus on providing the most VALUE for our customers – and sometimes that does mean you pay more.
Buying/Leasing a Copier – What Really Matters
Of course, price is a consideration in any purchase. I'm not suggesting otherwise. However, if price is the ONLY consideration, then you're short-changing yourself and your business.
Over the years, we've done extensive research with our customers to find out what they consider the most important benefit of working with us and what they want from their office equipment partner. Price doesn't even make the top 3.
Our customers have told us – and we focus on – what they want:
This commitment to service and support doesn't come easy. It involves investing in staff training, a large inventory of parts, a help desk infrastructure, and a reliable vehicle fleet.
What's it all mean? When your copier needs to be repaired or your laser printers stops working the day before you need to print that month's invoices, we'll return your office to full productivity faster than the competition.
As fast as business moves today, can you afford any lags in productivity? You can read about how speed affects your productivity in this post: Speed of Service Equals Copier Uptime Equals Better Productivity.
Responsiveness
We know that communication is the key to responsiveness (you can read about how seriously we take communicating with customers here: Crystal Clear Communication: THE Key to Successful Copier Service).
Our average response time to a service call is 2 hours and 37 minutes. That's from the time you first contact us to the time we knock on your door – even with all of the traffic and congestion.
Resolution
From the time you let us know there's an issue to the time your office returns to full productivity is 4 hours on average (actually 3 hours and 56 minutes). Response speed is great, but that doesn't do your business any good if the issue can't be resolved quickly.
First-Call Completion
Nine times out of 10 (actually, slightly better than that – 92.3%) we fix the issue in a single visit. That's right, in the time many competitors would take to arrive at your office only to tell you that they don't have the part they need and will need to come back – maybe tomorrow), we've fixed 92.3% of the copier and printer service calls. This isn't an accident. The Dallas/Fort Worth area is huge, which is why we invest in inventory and vehicles that can carry a large quantity of parts.
Billing Accuracy
There are few things more annoying than being overcharged for a service and then the hassle of correcting the mistake. We pride ourselves on the accuracy of our billing statements, particularly the accuracy of our managed print services contract statements, which rely on an dead accurate account of the number and types of pages printed and copied. How accurate? Our average billing accuracy is 98.3% over the past 6 months.
Isn't It Time to Be "Pound-Wise"?
The infrastructure we've built to enable this laser-focus on what our customers want requires effort – but effort out customers are willing to support.
You can continue to focus on price as the primary reason to make a business decision. I encourage you to think about what's really important – and whether or not that "cheap" copier is actually cheaper when you add up the costs of keeping that device working.