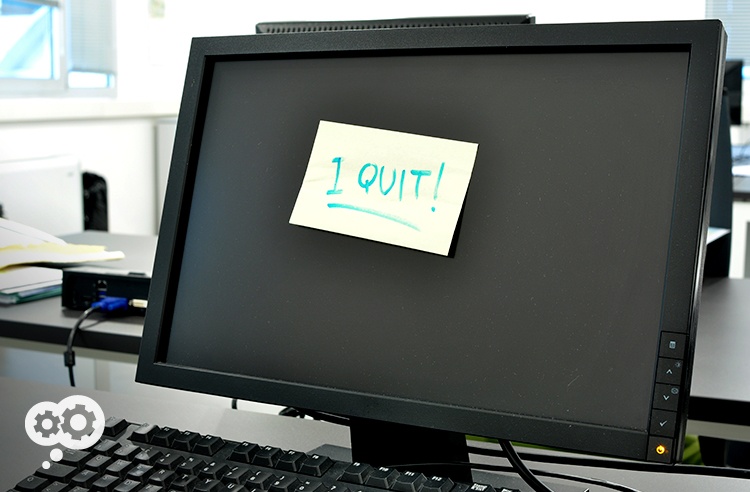 IT service partners often fail for one (or all) of these reasons: data loss, poor communication / customer service, downtime, and security breach. How's your partner doing?
Not every service partner will meet your expectations.
I know, I know; not a particularly shocking or unexpected revelation. We've all been disappointed in business services, whether it was the company that built your deck or the one that attempted to manage your network.
Sometimes you choose the wrong company.
I'm not going to argue (today at least!) that we're the right company for you. I do want to share the four common areas of poor service that our research with our existing customers over the past 15 years has revealed as the four reasons businesses stopped using an IT managed services provider.

For instant access to your PDF copy of the 4 Reasons IT Service Providers Fail, click on the image. >>
1. Data Loss.
This one baffles me – how does a business you hire to ensure access to your data turn around and LOSE your data? Yet it happens. Not with us. Our storage infrastructure is based upon the industry-leading Datto Total Data Protection Platform.
2. Poor Communication and Customer Service.
If you're a business person, talking to IT folks can be . . . painful. Not to mention confusing – acronyms and buzzwords more often confuse rather than explain an issue. We are firm believers in "No Geek Speak." Clear and constant communications are important to our customers so they're important to us. Two blog posts explain our thinking about the importance of communication:
3. Technology Downtime.
When you outsource your network infrastructure and backup to a service partner, you're depending on them to run your systems 24/7 without interruption. Redundant systems (geographically separated to avoid downtime in the case of natural disaster) and automatic failover means we have the highest possible uptime – reflected in our service level agreements.
4. Security Breach.
With ransomware and other hacking activities appearing in the news on a frequent basis (like the huge hack of HBO), network and information is a real concern for EVERY business. Regardless of size, you CAN be hacked. There is no such thing as perfect security – sometimes people make mistakes, click on a phishing email, and suddenly your network has been penetrated. However, we proactively address security issues (fixing them before you even knew there WAS an issue), ensure security patches are up-to-date, and monitor networks 24x7 to eliminate as many issues as humanly possible.
If you've read my posts about how closely we track our copier and other office equipment service metrics (read about them here), you won't be surprised that we do the same for our IT services.
We create an overall "Satisfaction" index by asking our customers how we're doing with the following four metrics:
Courtesy – 98.5%
Competence – 98.5%
Timeliness – 98.5%
Recommend – 9.7 (On a scale 1-10, 10 being the highest)
Our overall IT Satisfaction Index is 98.2.
If you're looking for a new IT managed services partner to manage and secure your network, backup your data, and we might be the right partner for you. Give us a call – or contact us by clicking the button below – and let's find out.
After all, your service provider should be fixing your points of pain – not causing you additional ones!