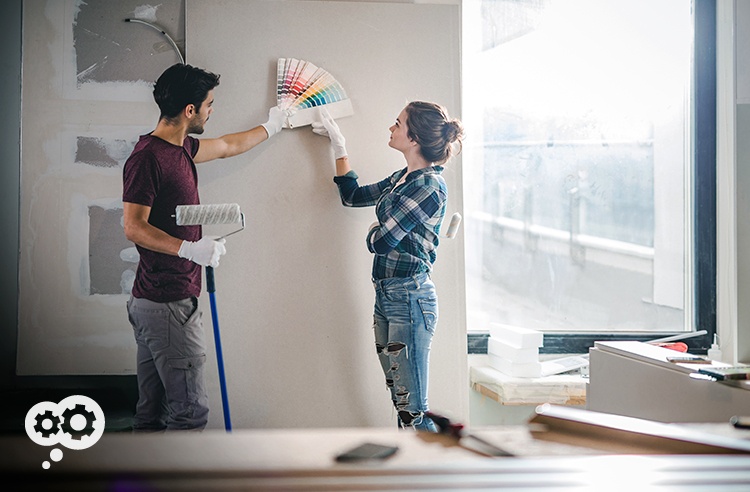 Whether you're producing fast-turnaround, lower-length jobs or massive, one-time runs, more organizations are discovering the distinct advantage of going "All-In on In-House" production.
In finding an effective process for getting your own high quality printed materials out the door, it's hard to bet against the house. Particularly, your own.
Whether it's printing envelopes, marketing brochures and banners, healthcare manuals or business cards. Whether you're producing fast-turnaround, lower-length jobs or massive, one-time runs, more organizations are discovering the distinct advantage of going "All-In on In-House" production. Modern digital technology makes internal production easily accessible. It puts you in the driver's seat of print deadlines. In ensures security for you and those you serve.
And, with capable production print systems and the right technology partner, DIY Print Production offers you complete control.
DIY Print Production: 5 Ways DIY Print Production Offers You Complete Control
1. Control Your Costs
Printing in-house, especially for short-run jobs (generally a quantity of 5,000 or less), can save your organization drastically by cutting the large set up costs, processing fees and markups.
Normally, organizations opt for a large print quantity with an outside vendor to offset (pun intended) the set-up costs. However, what happens when that document needs to be changed in 3 months, and you have 4,000 copies of an obsolete brochure collecting dust on your shelves?
The ability to print-on demand can help you dramatically control the costs moving forward, depending on current material demand and necessary turn-around time.
2. Control Your Time
Organizations are often hamstrung by the deadlines – and wait time – that come with an outside print vendor. Collecting the right file format. Waiting for a proof. Editing and sending back the corrected proof. The back and forth, while a necessary task for getting the job done right with a reputable outside vendor, can dictate when a job needs to be ready, and when you can expect finished production.
Desired turn-around times are increasingly faster for businesses today. By printing in-house, you create your own schedule and prioritize print jobs based on your current needs.
3. Control Your Confidentiality and Security
Production printing is a vital piece to any organization's technology security team. If you're outsourcing your jobs, how confident are you in the security capabilities of their organization, as well as the hardware they're printing from? Industries like law, finance, and healthcare deal regularly with private, sensitive information and must pay close attention to what type of data they are having printed.
Digital production systems today are more than just a mechanism for printing: It now incorporates significant technology advances and capabilities that make all documents an integrated part of a corporate network. Your digital press should include comprehensive security functions such as authentication, encryption, and input/output management to protect confidential information.
How does an outside vendor collect and store such data? Your reputable vendor could be well within best practices, but it's your responsibility to confirm their security capabilities.
4. Control Your Job Processes
Job workflow can determine the difference between pulling jobs from the machine tray within minutes, or just pulling your hair out.
With plan-ahead production, operators can manage and monitor jobs, receive custom notifications, run multiple jobs at once with multiple machines, while determining which machine can get the job done the most efficiently – all from one screen. When it's time to reprint that document in-house (perhaps it's another user inside your organization), it's a simple recall, right-click, and print.
Going "All-In on In-House," you can accelerate job workflow to meet real-time demand within your organization.
5. Control Your Capabilities
The capabilities of digital print production systems give you the reigns to steer your production just the direction you want.
Color Coordination: Color consistency is a continually-perfecting art with most digital office systems. For example, Canon's PRISMAsync incorporates an in-RIP G7 calibration method. Without a need for third-party software or complex procedures , print professionals can quickly and easily calibrate their PRISMAsync-driven imagePRESS color presses to achieve a near neutral print condition. With additional automation provided by Inline Spectrophotometric Sensors (ILS) support, profile creation can become even faster and easier. And by printing in-house, the power is all your's. If your print team sees variances in a color, with specific software solutions you can adjust the color through the job, and adjust in the middle of the run as needed. An outsourced print vendor is more likely to hit "print" and revisit your job upon completion.
Variable Advantages: With variable data capabilities, you can complete an envelope mailing in one pass by linking the address list with your envelope template with your printer. Additionally, with certain software solutions, you can complete a job out of one file with certain data changing in every print. For instance, many clients build business cards from one template, using variable data printing for each name, without having to reset the job for each business card or individual file.
Consider Your Finishing Options: Stapled documents. Saddle-stitched booklets. Full-bleed documents or perfect-bound books. The options are boundless (again, pun intended) in ways you can produce high quality documents that delight your customers.
Are you ready to go "All-In on In-House" production? If you're not, Datamax is happy to recommend a variety of print production partners with a proven reputation of maintaining the very best practices. Likewise, Datamax has a solid record of providing Return on Impression—the value stemming from the lasting image your corporate printing leaves in the minds of your clients and prospects. Wherever you are in your production print journey, Let's talk!