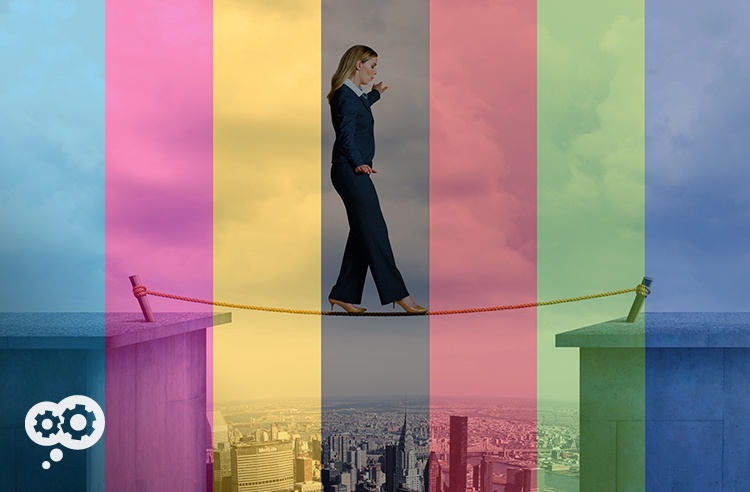 When you need perfect color, Canon imagePRESS digital color presses are G7 certified.
As a marketer, executing a campaign is like walking a tightrope – you can lean a little to one side for balance, but at some point, you have to lean the other way to stay on the rope. And, like the color consistency across a campaign that might include digital and offset print, sometimes printed from completely different geographic areas, there is little room for error if you have a brand to protect.

Canon's imagePRESS devices can help you protect your brand. Certified as compliant with G7, imagePRESS digital color presses will ensure continuity of color in your printed materials.
"What is G7 and how can it benefit my business," you ask? Keep on reading.
The struggle is real, as they say, for marketers who are always running (or in some cases maybe even flying) to a press check to examine the tiny dots on a press sheet, and at the same time launching short run campaigns on a digital press. How can color possibly stay the same when it's printed on different devices?
The answer is G7 (and we're not talking about foreign policy). G7 is a revolutionary color management method developed in 2004 by Don Hutcheson, a longtime lover of photography and print, and chairman of the IDEAlliance (International Digital Enterprise Alliance), a not-for-profit membership organization that has been a leader in information technology and publishing since 1966.
Hutcheson believed that the same photographic principle of establishing a neutral grey in an image can produce the best possible color tonality again and again.
If you have never heard of G7, I'll be honest, it's a little tricky to wrap your head around.
What Is G7?
G7 stands for greyscale plus seven colors: the subtractive colors typically used in printing (Cyan, Magenta, Yellow, and Black) and the additive colors (Red, Green, and Blue) and is simply a standardized definition of how black and white printing, or greyscale should look when printed on a CMYK printing device. To fully grasp the concept, it's important to understand Hutcheson's initial theory relating photographic exposure to print that sparked the creation of the G7 method.

Photography is all about a perfect exposure, or perfect balance of dark and light. But in most cases, cameras are just guessing at the colors that they are capturing. (Ever printed a photo and it comes out with an unnatural color tone and the white isn't quite white?)
To prevent this, and ensure that the camera knows exactly what is white, experienced photographers will use an 18% grey card as a reference point. Before every shoot, they take a test shot and place a grey card in the area being photographed. Then based on what their light meter reads, they make adjustments on their camera to capture the right exposure. This image can then be used later to speed up editing with software, ensuring that white is white and the tonality (lightness and darkness of contrast) of all the colors are balanced.
Hutcheson believed that if the use of grey in photography was so vital, the same must be true for print, since black and white is the critical foundation on which color printing is defined.

Traditional color calibration controls the tonality of each individual color (cyan, magenta, yellow, and black, or "CMYK"), whereas G7 focuses on managing the greys which are the basis of a good color reproduction. And, printing using a device with G7 certification means that you can expect the same color output on different printers (offset, digital, inkjet, lithography, screen, and flexography alike) or even different print vendors.
G7 is by no means a single solution for color management, and there is a large portion of the mechanics in the actual process I am leaving out here, but the method is an essential, complimentary, tool that belongs in every serious marketer's toolbox right next to printer calibration and ICC profiling.
Watch Don Hutcheson (HutchColor) discuss G7 in a very straightforward way:
Benefits of G7:
Quality - By doing a G7 calibration first, ICC profiles don't have to work as hard to produce the correct colors because the G7 calibration has already done the heavy lifting.
Consistency - G7 combats variations in a printing device so you don't need to re-profile when colors shift, just recalibrate to G7.
Standardization - G7 is more consistent than repeat profiling across different devices in different locations.
Efficiency & Cost Savings - If you perform a G7 calibration on all of your printers before you profile, often they can use the same ICC profile. G7 calibration is also faster and cheaper than re-profiling.
Less Risk - G7 calibration is less risky than creating new ICC profiles every time a job doesn't print right.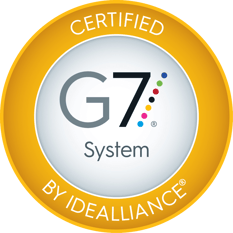 Flexibility - G7 calibration works on any printing system, any inks, any substrate as long as the printing system is G7 certified.
Customer Value & Brand Appeal - It should be noted that many of today's leading brands, agencies, and publishers will only work with G7 Certified Master Printers.
So How Does One Become Certified?
As you can guess, at the helm of G7 is IDEAlliance, who oversees the certification of G7 Master Printers, and the systems and softwares that they print with. All must go through rigorous training and testing, as well as maintain their certification with IDEAlliance.

Once certified, a G7 Master Printer ensures:
Proofs that match "natural" press conditions

Easier matching between different presses and substates

Faster make-ready

Increased sales and productivity



As I mentioned above, since G7 has become so popular, marketers are seeking out vendors and products with the distinction. The most recent list of certified systems and software can be found here.
Every system that earns the G7 certification comes with its own Application Data Sheet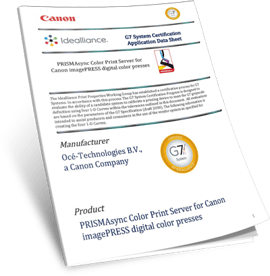 (ADS), detailing the steps needed to initiate a G7 workflow.
If your clients are demanding consistent color, every time they print with you, G7 is for you.
No more walking the tightrope. With G7 you can deliver across all your devices, no matter the location, every time.

Download the ADS for the PRISMAsync Color Print Server for Canon imagePRESS.