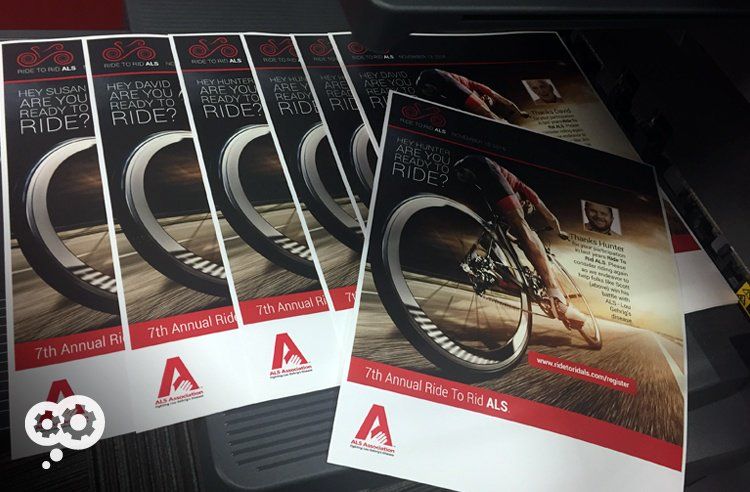 When asked to prioritize one capability that will be most important to marketing in the future, one-third of marketers answered: "personalization." – Source www.cmo.com
Variable Data Printing (VDP) is not a new concept. The use of the term dates back to 1969 when coined by Frank Romano, Professor Emeritus, School of Print Media, at the College of Imaging Arts and Sciences at Rochester Institute of Technology. Though not new, VDP is very much evolving in the exploding world of content marketing and big data. This blog provides a glimpse into this evolution and offers five personalization ideas that will help your organization maximize its return on impression with VDP.
Variable data printing enables mass personalization of documents via digital production print technology, as opposed to the mass output of a single traditionally printed collateral piece. Instead of producing 2,500 copies of a static document, delivering a singular message to 2,500 contacts, VDP facilitates the printing of 2,500 unique documents with customized content messaging associated with each unique contact. VDP leverages databases, digital print devices, and associated software to output full-color, personalized documents comparible to the high-quality once only available via traditional offset printing.
This personalization allows an organization to more precisely and effectively connect with its customers and prospects. That's what relevant technology should accomplish. Right?
So How Personalized Should You (Can You) Get Today?
Let's start with a few stats on why your business or organization should personalize.
"Personalized emails improve click-through rates by an
average of 14% and conversion rates by 10%." — Aberdeen
"(86%) said that personalization has at least some impact on
what they purchase, and one-quarter (25%) say personalization
significantly influences what they purchase." — Infosys
"In-house marketers who are personalizing their web experiences
and who are able to quantify the improvement see, on average,
a 19% uplift in sales." — Monetate/eConsultancy
"When asked to prioritize one capability that will be most
important to marketing in the future, one-third of marketers
answered: "personalization." — CMO by Adobe

Whether your focus is B2B or B2C, this is a hot topic and one we can help with. In a nutshell, the following represents three areas where personalization is taking place today. The first, which most savvy marketers are aware of, is the foundational VDP personalization component — data.
Personalized Data: The placing of personalized data (text, names, addresses, statistics, buyer interests, etc.) in strategic areas of your documents and marketing collateral. Such data can be sourced from most databases resulting in the creation of static or variable content using a variety of applications from Adobe, Microsoft, etc.
Beyond data, you can extend and accentuate personalization through images and video. Why does this matter you say? Cause a customer to experience goose bumps because you understand them and you put their name in lights and you'll have a customer for life.
Personalized Images: This extends far beyond standard personalized data and incorporates more visual and elegant one-to-one communications through image-based personalization within targeted marketing digital assets. Additionally, it has the potential to create a stronger emotional connection with customers. Click to try out a simple example from DirectSmile!
Personalized Videos: Pull data, such as name, job title, company, specific interests, etc., and feed it into frames within your video where personalization tokens have been inserted. This is even more powerful when you consider the kind of viewer analytics available like what is found in video solutions like Wistia.
5 Personalized Ideas To Consider
Incorporate personalized images in your emails and event invitations to enhance the content of your advertising message and trigger a higher response.
Present assertive, personalized product previews to motivate your customer's purchasing habits.
Use the effect of variable/personalized content in graphics or PDFs to better support your advertising promotion and product information.
Enhance the effectiveness of your Web or mobile applications by using image personalization and variable documents to make your Web pages, online shops, and Web-to-print applications more attractive.
Work directly with Adobe InDesign to provide advanced VDP features easily handling hundreds of variable text, article, and picture links per document — a powerful capability for catalog production.
If this sounds good and you'd like to learn more, we'd love to get a little personal too. Our Production Systems Specialists are ready and experienced and can help craft a tailored digital production print solution incorporating the latest in Variable Data Printing and Web-to-Print functionality and powerful production print workflows. So... let's visit!
Sources:
Wiki - https://en.wikipedia.org/wiki/Variable_data_printing
DirectSmile - http://directsmile.com/Image-Personalization
CMO by Adobe, 15 Mind-Blowing Stats About Personalization 10 - http://scl.io/gn80oAcd#gs.2yruRWY
Infosys Limited - https://www.infosys.com/newsroom/press-releases/Documents/genome-research-report.pdf