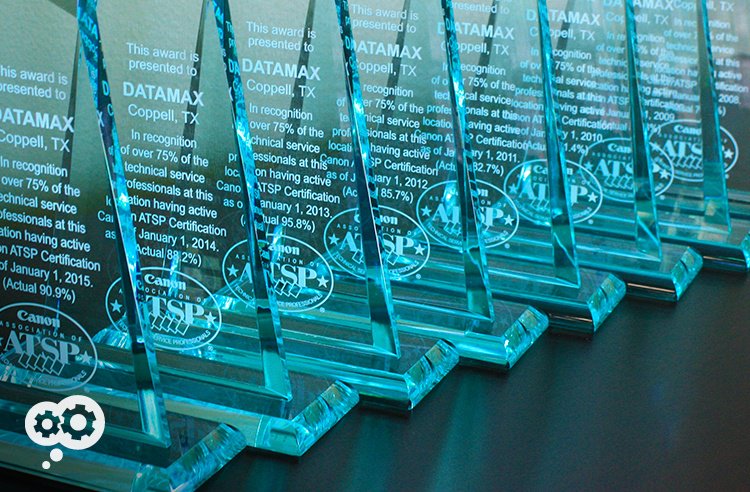 How do you know when your copier service partner is REALLY capable of servicing your Canon copiers?
Do you have an "ego wall?"
Go into a doctor's office, lawyer, or some other highly-educated profession and in many offices you'll see proof of their expertise in the form of diplomas and certifications hanging on the wall. I lightheartedly think of those as "ego walls."
In reality, professionals show off their qualification for a few reasons, including:
Pride in the effort to achieve their educational and professional goals

Proof that they know what the heck they're doing
My tongue-in-cheek way of thinking about these is as "ego walls" because there are some people who will put up any scrap of evidence to show expertise.
Regardless, all of those certifications and diplomas reflect work and effort to master skills. That's why we're extremely proud of our Canon ATSP recognition:
We're proud of the achievement and work we put in for it

It's proof that we know how to service Canon copiers (in fact, I think we're the best option to service, repair, and maintain Canon copiers in the Dallas/Fort Worth area)
Canon Copier Service – Why ATSP Is Important.
Our hard work means that we can fix any Canon-related copier issue. We are the ONLY independent copier dealer in Dallas/Fort Worth to achieve Canon's Association of Technical Service Professionals (ATSP) recognition. In fact, for some Canon-specific training courses, we're the only copier dealer from Dallas/Fort Worth in the classroom.
The recognition is available to copier dealers who have at least 75% of its service representatives certified through the program. Datamax certified 100% of our service representatives for 2016.
This isn't a one-time effort to achieve a trophy for our lobby either. We've been certified for 10 years in a row – 2008 to 2017 (and we'll make it 11 next year).
Why does this matter? When you see the Canon ATSP logo, the service representative responding to your call has been trained by Canon to provide the highest possible level of support to Canon copier repair and maintenance.
As Canon explains:
"The Association of Technical Service Professionals (ATSP) prepares service personnel to perform at a high level when interacting with customers and when providing service and support on Canon Business Imaging Systems Group products. Through specific certification exams and hands on challenges, ATSP provides a method that quantifies not only what an individual knows, but also whether or not they can apply their knowledge in real world situations. By confirming an individual possesses the knowledge required to service Canon products, and by confirming they can apply this knowledge, ATSP helps prepare Canon service personnel to work effectively to reduce unnecessary service expense while maintaining satisfied customers."
Advanced certifications matter. I explored this in an earlier post, Advanced Certifications . . . Relevant or Just Chatter? Give it a read for a more in-depth look at the Datamax Texas philosophy of education and training.
We are also a Canon Advanced Partner since 2014. Fewer than 10% of dealers nationally quality for this distinction. Not only does this serve as further proof of our Canon bonafides, it also gives us access to programs unavailable to dealers who aren't Advanced Partners. We get technical "fast pass" support, priority service training, and access to exclusive training offerings from Canon. All of this means we're even better able to support your Canon printers and copiers.
One final mention of Canon, this year we were recognized by Canon with a 35 year partner award. We have a 35-year commitment to servicing Canon technologies, that's a lot of institutional knowledge at your service.
Other Companies Make Copiers Too.
While the goal of this post is to discuss our support for Canon copiers and products, I'd be remiss if I didn't mention that we have committed to training our service professionals on all products we sell and service. We've received Konica Minolta's Pro-Tech Service Award for four years running due to our ability to demonstrate an exceptional commitment to customer support and satisfaction. For non-copier customers (or office equipment customers interested in more than office equipment), we've been a Microsoft "Gold Competency" Partner since 2006.
We Take Training Seriously.
For the last 5 years, Datamax Texas has invested over 20.8 thousand hours and over $1.1 million dollars in technical training to enhance service effectiveness, for Canon as well as for the other equipment we sell, maintain, and repair.
Wonderful. Why Should I Care?
What all of this means for our customers is simple – if there's an issue with your Canon device that we can't fix, no one can. We devote time, money, and elbow-grease into ensuring that our service professionals understand as many tricks as possible when it comes to servicing your Canon copiers – and equipment from others too (Hewlett-Packard, Konica Minolta, and Lexmark to name a few).
You can read more about our commitment to service: