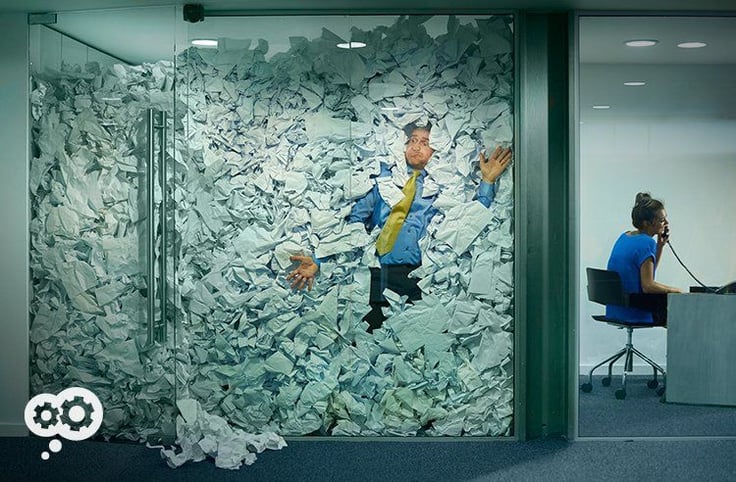 Most businesses don't know what they don't know when it comes to printing and copying.
Getting the right mix of office equipment is hard for companies. I've been writing recently about the value of assessments and how they help drive good business decisions when it comes to technology selection.
As the year winds down and another is soon to begin, now is a perfect time for thinking about your plans for next year. Do you ever sit down and think about how you could be doing things better, how you could be printing for less?
Only taking the time to plan will get your office in the shape you need it to be to do the best you can for your customers.
We've all heard the expressions of "Measure twice, cut once" and "There's never enough time to do it right but there's always enough time to do it again." We see many of our customers and potential customers never measuring when it comes to their information technology purchases – document management, office equipment, IT managed services, or managed print services.
I've compiled this list of questions to help you start to measure yourself. If you're considering a digital copier purchase or lease; interested in managed print services; or simply want to start getting a handle on the printers and copiers in your office; these questions will help you understand where you are and help to identify where you need to go.
The Office Environment
Technology doesn't exist in a vacuum. You buy IT products and/or services to accomplish a business goal. These questions will help you identify the context your decisions are being made in.
Do you have short and long-term goals for managing technology? For instance, do you have structures in-place to manage technology internally or is outsourcing your ultimate goal?

Do you have internal planning and strategy in place to support those goals?

What are your greatest challenges and what holds you back? For instance, do you have a resource or knowledge gap? Internal politics blocking progress?

Are there any energy management initiatives in place? Do they exist in fact or are they just words on paper?

Are you required to meet with industry-specific regulations? Are changes to those regulations looming?

Can your employees access information anytime and anywhere?
Printing and Copying
Companies usually have no idea what their actual print needs are and either buy more than they need or less than they need.
Can your employees print to a digital copier from their smartphones or tablets?

Is anyone in charge of your laser printers and digital copiers? Is there a central authority for purchasing supplies?

How many devices are supported by your IT help desk team?

How many people use the devices?

Where is each device located? Centrally or throughout the office – or across multiple locations?

Do you charge back copies, prints, faxes, or scans to departments?

Do you outsource particular documents and/or marketing materials? Costs?

How many vendors do you use to support your technology? Make a list and what each is responsible for.
Ready to learn how to get your print spending under control?