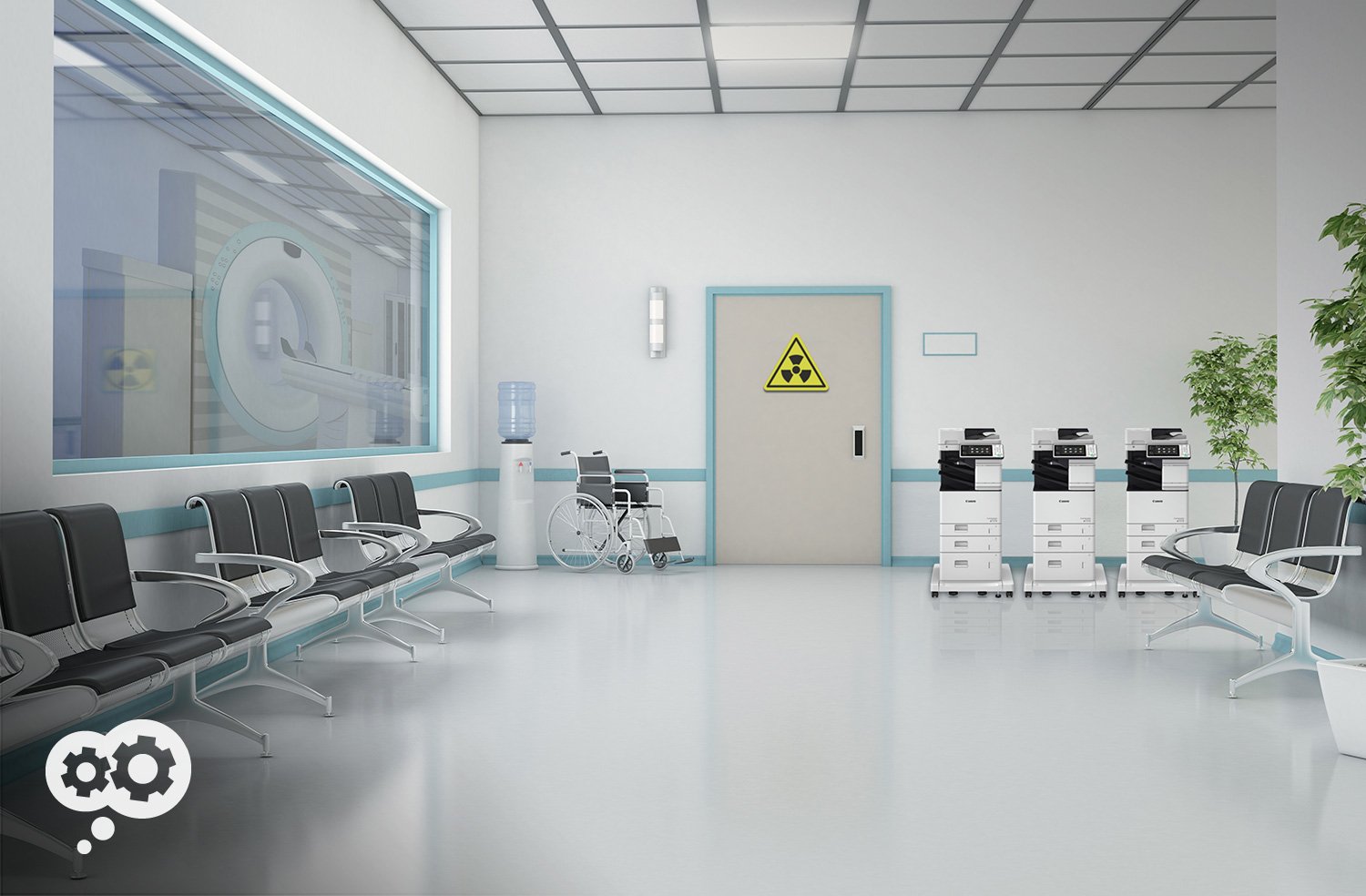 Ask yourself a simple health-related question about your fleet: "Do you have the freedom to focus valuable budgets on delivering real health care – not just administering it?"
Healthcare organizations conduct health exams continuously every day. But how often do they assess the health of their print fleet?
How well, under the microscope, do they examine the specific print workflows that move administrative tasks forward and manage costs along the way? How well do they track multi-function printer activities while mitigating unauthorized access to sensitive patient heath information?
What is a picture of good print fleet health?
The human body is an intricate, complex network of perfectly-synced pieces and processes. But a few basic questions like "Do you exercise? Get plenty of sleep? Eat a healthy, well-balanced diet?" can go a long way in assessing general health.
Likewise, print and workflow services are intricately designed, customizable solutions built according to individual print environments. But ask yourself a simple health-related question about your fleet: "Do you have the freedom to focus valuable budgets on delivering real health care – not just administering it?"
That question can go a long way in assessing general print fleet health. Below are three ways to begin assessing your own score and choosing a partner that has your long-term health in mind.
Assessment 1: Avoiding the "ER" in Copier Service
If there's anything that people dread about an Emergency Room visit, it's an excruciatingly long wait time.
Hospitals know this. In a hyper-competitive healthcare environment, they often advertise lightning-fast wait times, knowing that a patient's ER experience could very well dictate their overall impressions of the hospital. Many healthcare organizations will measure and track a range of operational and financial metrics to demonstrate and improve upon ER performance.
If there's anything that healthcare organizations dread about their office equipment, it's excruciatingly long downtime. If you think a down Multifunction printer isn't an emergency in a hospital or clinic, just ask that facility's administrative team.
Just as a well-run hospital moves patients from the waiting room to check-out, your copier service provider should be fluid and consistent in managing service needs, from response time to equipment expertise. A few metrics to consider:
The 4 "Rs" of Copier Service Fluidity
Addressing the following 4 Rs can help your healthcare organization see how well your technology provider scores, and also avoid an unexpected service emergency.
Response: Average Response Time is a foundational metric for copier service. Business interruptions and disruptions are costly, annoying, and painful. A copier service provider who can't address and then accurately interpret service requests intelligently and with speed has little value.
Resolution: Response + Resolution equates to having speed, as well as the ability arrive well prepared to do the job right. Speed without ability is of little value.
Rate (of First Call Completion): Done in one. Your service provider should have the necessary diagnostic tools embedded on each machine to evaluate every single service call and have a strong idea of how to resolve the issue, prior to arrival.
Recommendation: Does your service provider come recommended? Do they have a reliable way to measure how satisfied clients really are? A reputable provider will leverage the Net Promoter Score (NPS) to capture meaningful feedback and demonstrate a high rate of recommendation.
Assessment 2: Administering Advanced-Level Care
Advanced Care in the medical sense refers to long-term planning and making decisions well ahead of possible future circumstances.
A relevant partnership with your provider is more than a dose of antibiotics for a current ailment. Advanced Care from your technology provider is about looking "big picture" into your organization's needs, from security and compliance to centralized fleet management, and providing solutions that will promote long-term well-being.
Here's a few to consider:
Enterprise Content Management
Combine enterprise control with departmental flexibility to centrally and securely manage your content—providing a critical complement to HIS, EMR and other clinical and back-office applications.
Privacy and Security Management
Deploy privacy and security solutions and services developed specifically to comply with the many regulatory requirements established by HIPAA and HITECH.
HIPAA Compliance Risk Assessment
How vulnerable is your facility? Just as the HIPAA Security Rule mandates, conducting a thorough cyber security risk assessment is a critical step in safeguarding protected health information and avoiding steep fines.
Workflow Management
Optimize productivity and reduce medical labor costs with customized and integrated workflows that combine multiple tasks into single processes.
Cost Reduction and Management
Eliminate expensive pre-printed medical forms, minimize the need for multiple fax lines, and control print costs through enforceable print management policies.
Assessment 3: Arranging for Regular "Check-ups"
The annual check-up simply doesn't work in the business technology industry.
Regularly-scheduled Partnership Reviews must occur to review current service performance, and maintain hyper-focus on the landscape ahead.
It's more than a traditional (perhaps annual) account review healthcare organizations may be accustomed to. What's different about a Partnership Review? It demonstrates the technology provider's commitment to produce results. A few things a Partnership Review should encompass:
Review service performance metrics and service level agreements
Share best practices, training tips, and strategies to enhance solution utilization
Promote the adaptation of unused technology features and capabilities
Build relationships with our customers, including briefing new internal stakeholders
Ensure our solutions are contributing to the achievement customer business goals
Validate the value our customers are receiving from our products and our partnership
Reinforce Return on Technology Investments through evaluation and cost analysis
Identify changes to facility, personnel, or device location
Think strategically about customer needs or requirements in the upcoming quarter and beyond.
Does your technology provider have your long-term print fleet health in mind? Have they proven an ability to not just keep your administrative team out of emergency scenarios, but also provided you with a clean bill of health for the months and years ahead?
The Datamax GoVertical Healthcare Program and our Partnership Review initiative are just two examples of how we strive to not only remain relative to healthcare-specific challenges and needs, but also consistently ensure Raving Results for every organization we serve. Interested? Let's visit!