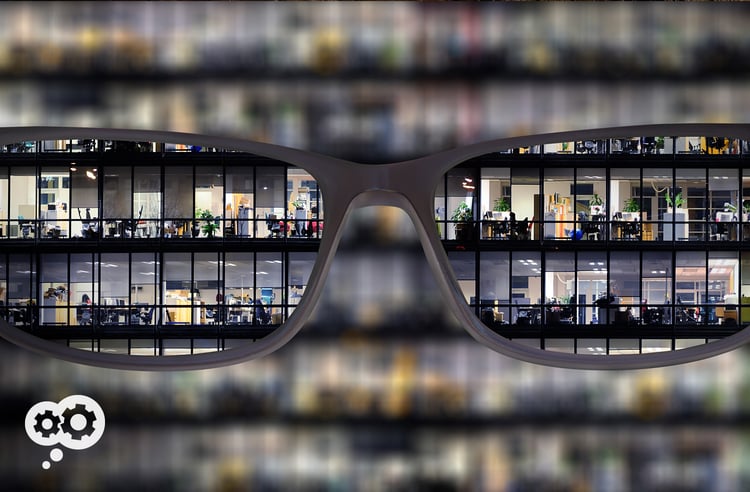 Do their values reflect a commitment to maximizing your return on technology investment? Is their communication – and their approach – crystal clear?
Pardon the inevitable pun. But does your technology partner have a 2020 vision, at least for your business? Does their vision match your's?
In other words, can they:
Speak to the true challenges of your industry and your specific organization?
Identify opportunities for creating more efficient business processes, and make relevant technology recommendations that are relevant to YOU?
Maintain accountability with proven results?
Asking yourself these questions may spark even more (if so, check out our eBook "20 Crucial Questions to Ask Your Next Office Equipment Provider). And that's OK. It's a great time of year to be asking them.
January is synonymous with looking ahead. The further into the year we travel, the more business plans turn to action, and the more our vision tends to narrow toward initiatives directly in front of us.
But take a moment to look long-term. How would you evaluate your existing relationship with your business technology partner? Do their values reflect a commitment to maximizing your return on technology investment? Is their communication — and their approach — crystal clear?
Does your technology partner have 2020 vision for your technology partnership moving forward? More importantly, what does that look like, exactly?
6 Qualities that Demonstrate Your Technology Partner has a 2020 Vision for Your Business:
1. The
Initiative

to Prepare.

Being in tune with what's really going on in your organization? That takes preparation.
What level of research does your partner do on your organization ahead of time? Given the evolving nature of technology, do they bring new ideas or considerations to light? Are they just an account representative discussing your lease payment, or a business process consultant who can discuss actual workflow challenges, productivity-enhancing solutions, and return on technology investment progress?

From a service perspective, how prepared is your technician? Advanced-level training and certification doesn't just satisfy the company trophy case. It satisfies clients.
The reality is that many print-related services issues today are complex in nature. The variables that exist often require much more troubleshooting than what can be found in a standard training manual.

Manufacturer distinctions such as Canon's Association of Technical Service Professionals (ATSP) certification require literally hundreds of hours of onsite and online training for technicians. The job function-based exams are designed to measure both the knowledge and the demonstration of the skills that are required in real-world settings for a support professional against a set of standards for competency and performance.

Likewise, in your production print space, are you forced to maneuver through workarounds in attempts to achieve a desired final product? Do you have the opportunity to speak to a G7 Certified and/or Certified Management Professional Fundamentals representative to optimize production processes?

The reality is, you know initiative when you see it ... are you seeing it now?
2. The
Capacity

to Speak Your Language.

Many companies claim technology expertise. Fewer combine such expertise with the knowledge of how to apply it to individual industries. Workflows, regulations, and cultures differ; does your provider offer a technology solution that's relevant to your industry? Do they have a vertical marketing approach that governs their approach to solution development and deployment?

Or is it just a "box mentality?"

Your technology partner should be well versed on the key documents at play in your industry, the key departments at your organization and what they prioritize, compliance requirements and challenges you may face, and even the jargon or buzz words that float around your office every day.
The quickest way to help businesses go vertical with their technology and ultimate results, is a partner who values and takes a vertical business approach to their industry.
3. The
Creativity

to Dig Deeper.

In the world of workflow you may be talking about replacing a MFP, but the technology selection discussion should dig much further than that. The intent should be to examine the actual movements of your documents to provide the best possible workflow your organization. The approach should be holistic in nature.

How deep and wide does the dialogue of discovery travel with your account representative?
Has your provider shown the ability to deeply familiarize themselves with your current situation – potential needs years down the road? Doing so means uncovering pain points, asking open ended questions, listening more than talking. And then taking a creative approach to solving a real business problem, and a flexible one that accommodates your organizational needs.
4. The
Willingness

to be Held Accountable.

Simply, do they own their solution recommendations? Do they own the responsibility to maximize the associated technology investment? A regular Partnership Review should be part of the routine with your account representative, reviewing solutions to see if we're on track. Where we can improve. What's changed and what makes the most sense next.

Service performance categories should be measured on a regular basis, and you should have full visibility into the numbers for everything from "Response Time" to "Resolution Time" to even "Accuracy of Billing."

And then, your partner should be held accountable for those results. It's that simple. The value of account management is always under-girded by demonstrative accountability.
5. The
Ability

to Respond − and Resolve.

When dealing with your account representative, how easy are they to get? Are your needs for information, alternative solutions, new workflows, being responded to and properly addressed? It could be service pain points, change management, or simply billing questions that are giving your admin team a real headache.

What about service response? What's the initial response time? Minutes? Hours? Days? From the initial call, did they outline a specific time frame for their visit and follow through with you perceive to be an acceptable service response time?

The foundation of customer service – and minimized client downtime – is responding and resolving quickly. A copier service provider who can't address and then accurately interpret service requests intelligently and with speed has little value.

There is great value in asking for metrics. Its a valuable litmus test that can ensure your best partner selection and/or retention.
6. The
Worthiness

of Your Trust.

Trust, it can only be earned.

In his book "They Ask, You Answer," Marcus Sheridan writes that "Every business has a single tie that binds them all together when it comes to consumers and buyers, and that is trust."

Trust with your technology provider should come organically based on the information discussed above. Do you trust their solutions and recommendations? Do you trust that they're digging deeper than just selling you a box? Do you trust that they'll remain accountable when challenges arise?

Businesses today are all vying for your trust, but have they created enough value to really earn it?
---
Datamax's vision with our clients is unwavering. Our mission begins with thought leadership in providing comprehensive consulting, service, and support for cost-effective technology-based solutions that improve organizational workflow. It's a holistic approach – never a quick quote.
But we'd love to hear more about YOUR vision. Let's discuss your business goals, challenges and needs. Start with a print/workflow assessment to identify underlying issues and visualize a more efficient, productive workflow journey ahead!