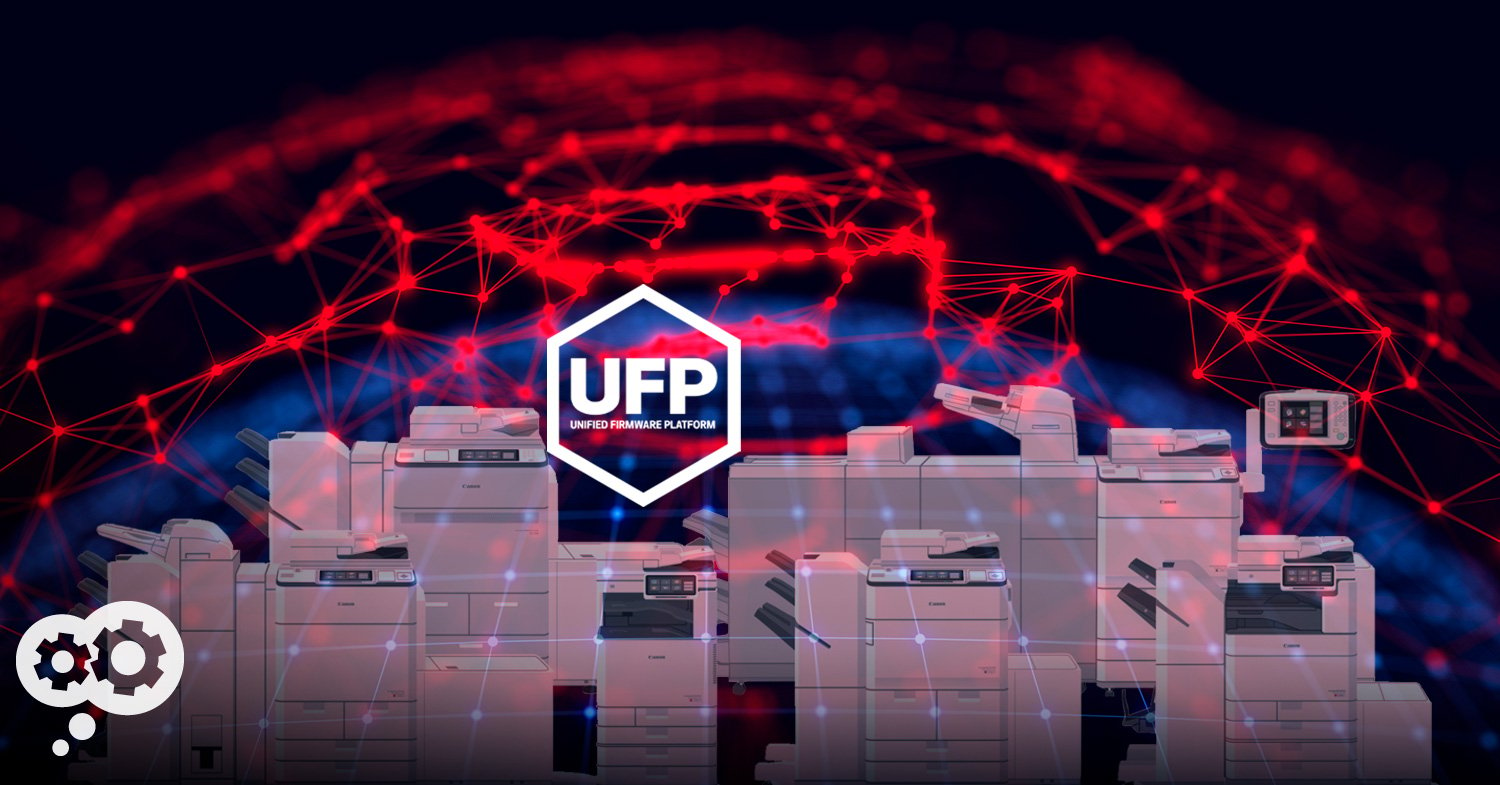 Let's face it. Applying the right security settings and ensuring best practices can get complicated fast, but Canon's Unified Firmware Platform (UFP) simplifies that for you.
Firewalls, VPNs, anti-virus protection... these are all commonplace in today's tumultuous cyber security landscape. It goes without saying that cybersecurity is a top initiative for organizations aiming to protect sensitive information and their reputation. What about your copiers and printers, and their inherent need for protection? Perhaps less commonplace.
To raise awareness about printer security, the team at CyberNews recently performed an experiment. They attempted to "hijack" a total of 50,000 printers and successfully accessed 27,944 of them (56%). This single experiment speaks heavily to the general lack of protection out there on today's printers or copiers.
Let's face it. Applying the right security settings and ensuring best practices can get complicated fast, but Canon's Unified Firmware Platform (UFP) simplifies that for you. Below we'll share a few ways that the latest UFP version only further secures your MFP environment (and enhances the user experience with ongoing upgrades).
UFP: Upgrade and unify.
UFP, in a nutshell, ensures that your hardware is upgradeable, and these enhancements apply across multiple models and devices in a unified manner.
UFP is common source code for firmware development for models within the third-generation imageRUNNER ADVANCE, imageRUNNER ADVANCE DX and imagePRESS Lite product families. It allows these models to be updated with features, new functionalities and, yes, enhanced security measures on an ongoing basis without a complete model upgrade.
UFP: Updates that enhance the user experience.
More than 500 feature updates have been delivered through UFP since its inception in 2016. Below are just a few examples of features that have been added since that time.
Improved OCR Accuracy: Improved optical character recognition of letters on dark backgrounds for more accurate scanning.
Security Information and Event Management (SIEM) System Integration: Integrates with third-party SIEM systems to alert administrators of potential threats.
Visual Message: A unique message can be displayed over the screen to act as a screensaver or pop-up in order to communicate information to the user.
Microsoft Universal Print: Native support for this cloud-based print solution that enables simple and secure printing experiences, while reducing time and effort for IT.
My ADVANCE Synchronization: Personalized settings can be synchronized with multiple devices on the network. If you change a personal setting on one device, it will automatically update on your other devices.
Hot Folders: Drag and drop a file into the hot folder, and it can automatically print with pre-defined settings such as number of copies and finishing requirements.
UFP: The newest security features to simplify the user experience.
1. Security best practices made simple.
Administrators can now access Canon's recommended security settings by environment via a one-button configuration. Previous versions prompted users to access these "best practices" by answering a series of questions and then applying all settings individually/manually.
2. TPM Peace of Mind.
Trusted Platform Module (TPM) provides protection against unsolicited installation of malware. TPM version is now displayed under "device information" (previously not accessible through the user interface). Administrators can check and confirm which version of TPM is installed on the device to ensure they have the most up-to-date security.
3. SMTP Password Protection.
Administrators can now set the SMTP device password up to 128 characters for device authentication. This allows for the latest cloud-based mail services that require higher encryption.
4. WPA3 Support.
WPA stands for Wi-Fi Protected Access. WPA3 is a security-enhanced protocol for Wi-Fi networks from the Wi-Fi Alliance that strengthens wireless LAN security and, specifically, is designed to prevent KRACK attacks. KRACK is an acronym for Key Reinstallation Attack, and previously detected a vulnerability in WPA2.
UFP helps kick copier/MFP obsolescence to the curb, and ongoing security updates help protect your confidential documents in a seamless way. If you are interested in learning more about the Unified Firmware Platform, or ways you can improve MFP or Network Security at your organization, we'd love to visit. Click below to visit with a Datamax Technology Specialist!