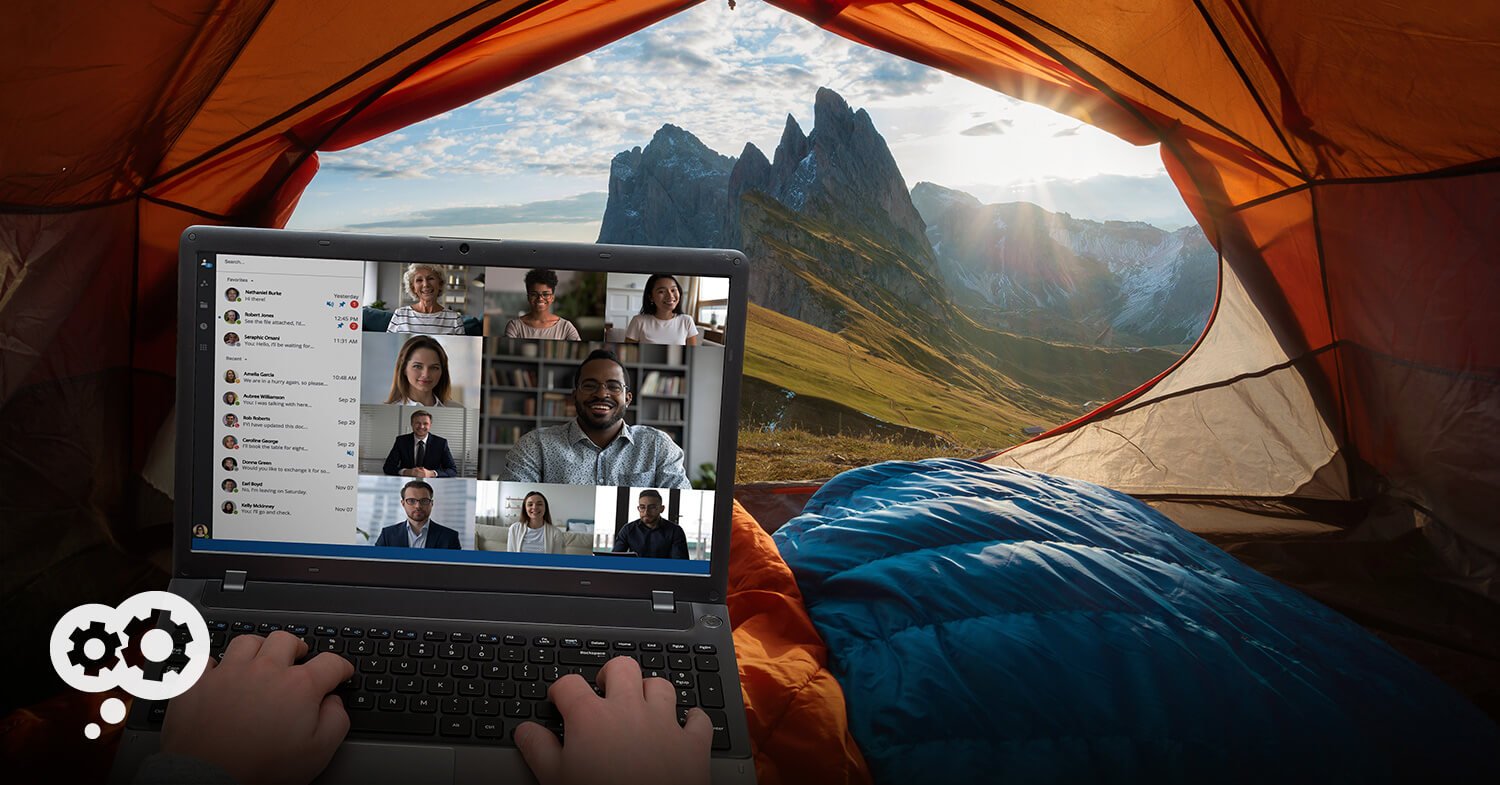 Keeping control of a remote environment, along with possessing the optimal tools for communication/collaboration, become paramount for businesses through the pandemic and beyond.
The COVID-19 virus has created many more questions than answers for businesses in 2020. From work from home strategies, to reopening plans, to employee safety, chief among these questions is simply, "what's next?"
There are some thing we DO know:
There have been positives that emerged from the unforeseen circumstances

The Work From Home (WFH) Horse has left the barn. It's up to businesses moving forward to understand how it functions for them and how they can control such an environment.
First, the positive outcomes. A recent article by ZDnet reminds us that, even under the bleakest moments, there have been bright spots. "We have all experienced first hand the emotional and psychological effects of isolation and immobilization. And yet there have been notable business successes and other positive outcomes as well," the article states.
Among the 'positive outcomes' mentioned:
The long-awaited emergence of telemedicine,
The success of the individual fitness and well-being retail sector,
The success of the home improvement retail sector,
The phenomenal response by front line workers,
The rapid adoption of remote communications tools both for business and personal use.
But what comes next? Numbers compiled by Global Workplace Analytics give us a glimpse of WFH moving into 2021. The organization launched a work from home experience survey earlier this year.
Consider these three statistics from Global Workplace Analytics:
The "best estimate" is that 25-30% of the workforce will be working-from-home multiple days a week by the end of 2021.
A typical employer can save about $11,000/year for every person who works remotely half of the time.
73% of employees surveyed noted that they are very successful when working from home. 76% said they want to continue working from home at least 2.5 days per week, on average.
In other words, WFH will outlive COVID-19 to some capacity. Keeping control of a remote environment, along with possessing the optimal tools for communication/collaboration, become paramount for businesses through the pandemic and beyond.
Remote Control:
6 Business Communication Tools

For Surviving 'The Next Normal'
1. Video Conferencing
Zoomed out at this point? Perhaps so. But there's no denying video conferencing's ability to keep companies connected when in-person meetings became impossible. And there's little saying that it's going anywhere anytime soon. In fact, the video conferencing market size is set to exceed $50 billion by 2026, according to a new research report by Global Market Insights, Inc.
A few benefits:
Face to face meetings via HD video eliminate unnecessary travel and empower teams with remote members to be more productive
Establish a personal connection with customers and business partners, and improve internal communication between offices
Save on above-mentioned travel costs ... according to one report, by as much as $11,000 annually per employee.

2. Cloud-based Phone System
A cloud-based phone system, with an integrated combination of collaboration-rich features, can increase up-time dramatically and potentially reduce phone costs when compared to a legacy phone system. It also extends its reach beyond the traditional office.
Features such as voicemail to email, hold & park, call transfer, and call recording can be managed through your company's private administrative portal.

In the event of disaster or outage, forward calls to your mobile devices or to an off-site location

Lower your operating expenses by eliminating the need for expensive equipment and the technical experts needed to install, maintain and repair equipment
3. Desktop Integration
A desktop app that integrates with other collaboration tools brings call, chat, text, and file sharing under an "all-in-one" scenario at your cubicle or inside your home office.
Use your desktop application to place and receive calls in two ways, either as a call controller for your associated desk phone or as a softphone from your PC or Mac
Send and receive chats with team members (individuals and groups)
Launch a meeting or share your desktop, documents, or applications with one click
4. Mobile Capabilities
It's no surprise that employees today are utilizing smartphones more than ever before. When integrated into your communications platform, a mobile app tied to your cloud-based phone system can:
Makes any smart phone an essential collaboration tool
Extends your business phone number and extension to your mobile phone
Allows you to place and receive calls, see who is available, chat with colleagues and manage voicemail — anytime, anywhere
5. 'Virtual' Fax
As antiquated as it may feel, fax is still a rudimentary part of workflow for so many organizations ... particularly in the healthcare sector. Managing fax outside the office can be tricky. A web-based fax solution:
Allows users to receive and manage faxes via the web or email
Transmits faxes directly from a Windows®-based PC
Allows senders to simply dial the WebFax number from their fax machine, as they normally would
6. Remote Office Phones
Working from home? Bring your business phone with you.
Pre-configured phones can be plugged in to any location that has an internet connection
Remote desk phones work exactly the same way as they do in the office, with access to all the same features and functionality as everyone else in the company
These features — and more — fit seamlessly under one platform with a Unified Communications initiative. In an increasingly mobile and remote workforce, it creates the cohesive experience — and facilitates the need for speed — every business user relies on to succeed. Interested in learning more? Schedule your Unified Communications Assessment today!