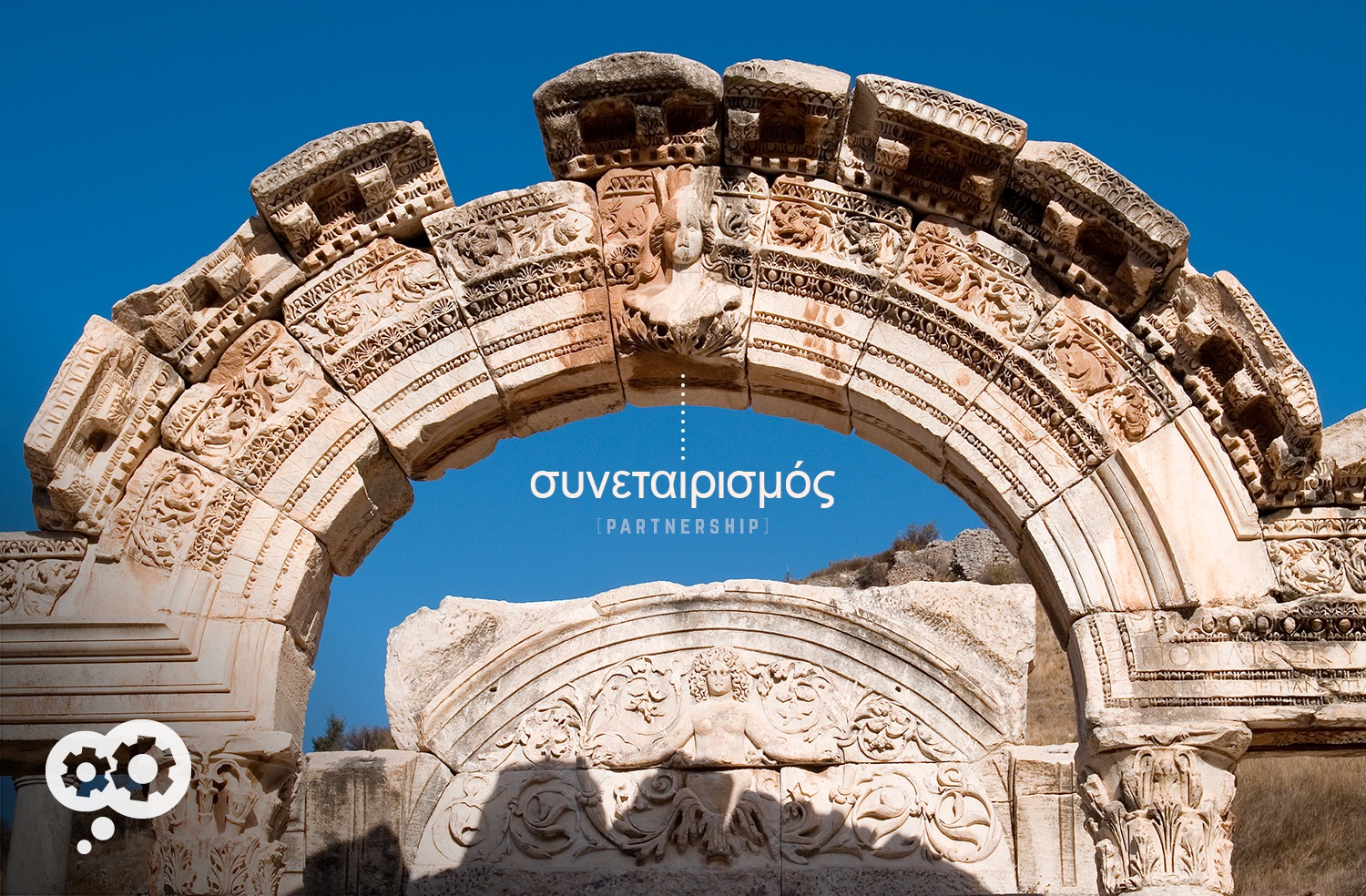 "How can I create - or run - a game plan if I can't even reach my account manager?"

— Lauren R., Office Administrator
In the study of ancient civilizations, the keystone represents more than just architectural eye candy.
The keystone, the wedge-shaped piece at the summit of an arch, is often noteworthy for its structural beauty and artistic significance (SEE: the Temple of Hadrian inside the ancient Greek city of Ephesus, above). But the ornately crafted stone atop arches also represent the final piece placed during construction and, more importantly, the piece that locks all the stones into position.
The keystone is regarded as the stone that holds all others together.
In the world of sales and account management , particularly among corporate accounts and most valued clients, the keystone element for success is developing a true partnership. A true partnership – defined by values like trust, mutual vision and successful collaboration – is the capstone for which all other things depend upon within a business to business relationship.
Managing technology has countless moving parts. A fleet manager seeks foundational support in maintaining control over his or her collection of copiers, printers and production equipment.
What level of relationship do you have with your technology partner? What constitutes a true partnership?
Partnership Skills
A certain skill set level must be obtained for any successful partnership. Here are three critical qualities to success, identified by BTS in its recent "Keys to Key Account Management" whitepaper.
Understand: An account manager must first understand the deep value of a particular account. He or she must also understand the changing dynamics affecting the client's business, as well as overall company strategies and organizational structure.

With this knowledge, the account manager can make relevant cases on why technology recommendations add real value to the client.

Collaborate: Business change of any kind, including those that involve reorganization of a printer fleet, can be met with dread or even resentment. Collaboration is a key to making end users recognize and – more importantly – feel a part of the positive change.

Additionally, because of their generally larger nature, key account solutions don't fit in a box. They need a custom blend of products and services tailored specifically to their needs. A true partnership involves stepping across a departmental aisles, across the organization, to develop these customized solutions.

Orchestrate: A symphony orchestra makes beautiful music only when all instruments are impeccably in time with one another. Likewise, an account manager must be capable of planning, coordinating and executing short-term and long-term plans, analyzing outcomes through regularly scheduled partnership reviews, and applying them to future print strategies.


Partnership Depth
While a skill set represents the breadth of a successful partnership from side to side, clients must also explore the depth a specific partnership can offer. How can you create - or run - a game plan if you can't even reach your account manager?
Cross-functional Teams: "How can I create - or run - a game plan if I can't even reach my account manager?" A team of collaborators that surrounds an account manager and client can offer accessibility depth and a cross-section of expertise when technology challenges arise. Does your partner offer access to IT leadership? Service leadership? A full team of client support staff that will craft their SLAs to your specific needs?
Service and Support Agility: Your level of support is the engine under the hood that drives your business day to day. There is often customization needed to accommodate your fleet, spread over multiple departments or locations. How agile is your technology partner in adjusting to and fully understanding the need for proactive service?
Escalation Capabilities: The approach should be to equip, not to escalate. But when complex technology issues do arise, what level of depth does your office equipment partner have with reinforcements? For example, the Canon Advanced Partner Program offers support such as priority Canon service training and support, and access to senior-level management. Your partner should quickly initiate and own escalation processes through Original Equipment Manufacturer (OEM) or Original Software Developer (OSD) support tickets to ensure problem-solving responsiveness to persistent solutions support issues. They should also work hand-in-hand with the OEM or OSD through the entire life of the support ticket, and be the initial response/point of contact for all Solutions Support requests. If all else fails, can your service partner stand in the gap with necessary reinforcements?
Partnership Review
Who will not only assess the current state of your technology base, but steer the ship toward its most productive future? A Partnership Review is a monumental summit for further navigation.
Key components to any Partnership Review with real value include:
Performance
Overall SLA performance statistics.
Invoicing and overall cost analysis.
Fleet utilization and output volume distribution.
Planning
Any facility/location changes?
Any business application changes?
Any upcoming projects requiring additional technology support?
Any assistance in better tracking print output from your devices?
Progression
Any areas or processes where your partner could better support you?
Has your technology provider earned partnership status? When it comes to managing your fleet and maintaining control over workflow, it (partnership) is t the stone that holds all other pieces together.
With our Datamax Key Account Program (DKAP), we demonstrate the real meaning behind partnership with our agility in providing customization to our account management details, and our commitment to maintaining consistently proactive communication and support. To learn more, visit with one of our Datamax Key Account Consultants!
---
Cleayton Mills is the Vice President of Sales at Datamax Texas and the Head of the Datamax Key Account Program (DKAP). He can be reached at (800) 633-1526.