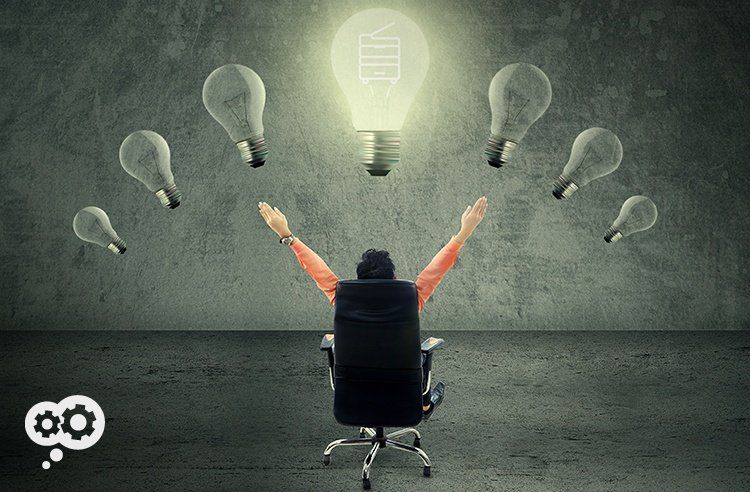 How many digital copiers and/or printers does your office really need? Ask yourself a few of these questions to find out.
Granted, this title is a little silly. It's a bit like the question "how many licks does it take to get to the center of a Tootsie Roll Pop?"
The answer is, of course, the world may never know.
Or, another light bulb joke:
How many copier sales people does it take to screw in a light bulb?
5.
One to hold the light bulb, the other four to turn the ladder.
OK, enough with the jokes, because I do have a serious point to make. I've written about the mistakes of just buying a copier and more recently about the value of assessments – find out where your office stands regarding your technical capabilities before purchasing more.
Having too much or too little printing and copying capacity can be a drag on your business. If you print more than your copiers and printers are designed to output in a month; these devices will need to be replaced quicker and will be prone to need more frequent maintenance and copier repair. If you have more capacity than you use – say you have a digital copier capable of printing 100,000 pages but you only print 20,000 monthly – you're paying for more than you need.
Before you "just buy another copier," ask yourself at least a few of the following questions.
How many pages do you print each month in black and white?

How many pages do you print each month in color?

Do you use your digital copier to scan documents?

What paper sizes do you need to print – letter size, legal size, other?

Do you expect print volume to increase? (And what will increase – color printing, paper size, etc.)

Do you own or lease your current copier(s)?

If you lease or have a managed print services contract, contact your service partner because they'll be happy to provide guidance.

How many devices do you own or lease (copiers, printers, scanners, fax machines)? Are any of them currently underused? Could they be moved to a new location – eliminating the need for another piece of equipment

Are any business initiatives in planning that will require new equipment and/or new capabilities?
What features do you need:
Double-sided (copy, print, and/or scanning)

3-hole punch (or other punch pattern)

Stapling

Multiple paper trays (for unattended printing)

Fax

Color printing

Network scanning
Do you need to print those particular documents? Some document processes that are entirely paper-based can be automated, beginning with the scanning feature on your digital copier and software included with your device. Think through your business processes – you might be able to automate a workflow, improving productivity, speed, and saving printing costs.
If you work with a managed print services partner, they can guide you through this selection process so that you don't over or under purchase equipment and supplies.