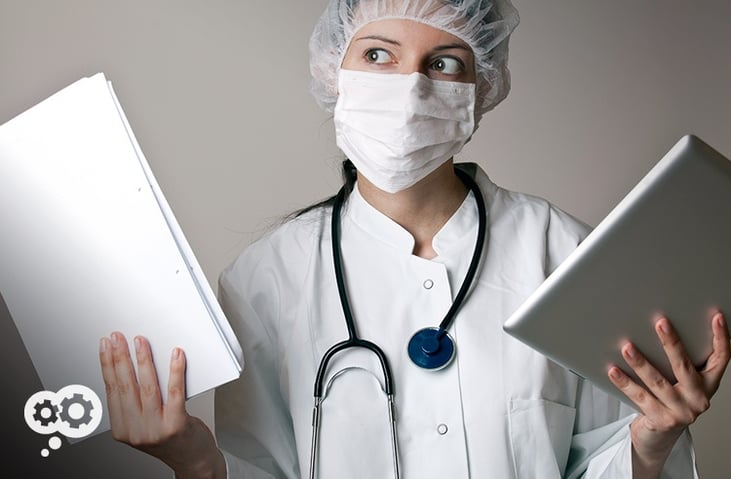 EMRs and EHRs both help manage patient information; but they aren't the same.
As a healthcare provider – doctors' office, medical clinic, critical care facility, etc. – you've got a lot of paperwork to manage. Insurance forms, explanation of benefits, and, of course, patient records. We keep coming across electronic health records (EHR) and electronic medical records (EMR) as we speak to our customers and potential customers.
Some people use the terms interchangeably, kind of like they use "health" and "medical" as synonyms. However, there are some major differences between EHRs and EMRs. What sets them apart from each other, and why should you note the differences? Here's what you need to know about each term.
The Definition of an EMR
An EMR is the digital version of a paper medical chart. This means it should include the patient's medical history, any medications he or she has been taking, any diagnoses, any allergies, and all immunizations. This is clearly helpful for the patient's doctor to have on the practice's computers because it makes it easy to monitor health data, such as blood pressure readings.
However, you should note that the EMR is only for use within the practice that the patient attends. It's not easily shared from one practice to another, so patients under the care of a team of doctors at various practices need to get a printed copy of the EMR to share. This is also the case if the patient switches from one practice to another.
The Definition of an EHR
The typical EHR has all the same information, plus additional data, and it's easy to share between practices. Specifically, the EHR should contain more than immunization dates and updates on medications. It should also feature lab results, radiology reports, notes on the patient's progress from one appointment to the next, and demographics.
In addition, it's easy to share the EHR on the computer systems across practices, which is good news for patients who see numerous doctors. For example, after a patient has been in a car accident, it's helpful that the emergency room doctor, the radiologist, the primary care physician, and the physical therapist can all read and update the EHR as needed. This way, all of the medical professionals are aware of the results of the other appointments without having to first request a printout of the digital medical chart – or EMR.
Why EHRs Are More Common
As you can see, both electronic medical records and electronic health records are helpful in that they offer medical information in digital form. But EHRs tend to be preferred because they offer a more complete look at the patient's health and contain the medical chart, lab results, and notes from doctors.
In addition, EHRs can be shared between practices and patients. Patients who want to see any trends involving their health can log on and view their EHR, while the EMR is only for their doctor to view. And of course, patients who need to switch practices for any reason don't have to worry about obtaining copies of their records to offer their new doctors, saving time and effort.
You can likely see why some people use these terms interchangeably. After all, an EHR has all the capabilities of an EMR, and then some. But an EMR does not have all the same benefits as an EHR. That's why it's important to keep these differences in mind, especially if your practice is trying to decide whether to use an EHR system or an EMR system.
Looking for help with managing your healthcare documentation? We can help you focus on your patients, not your technology. Click here to learn more.