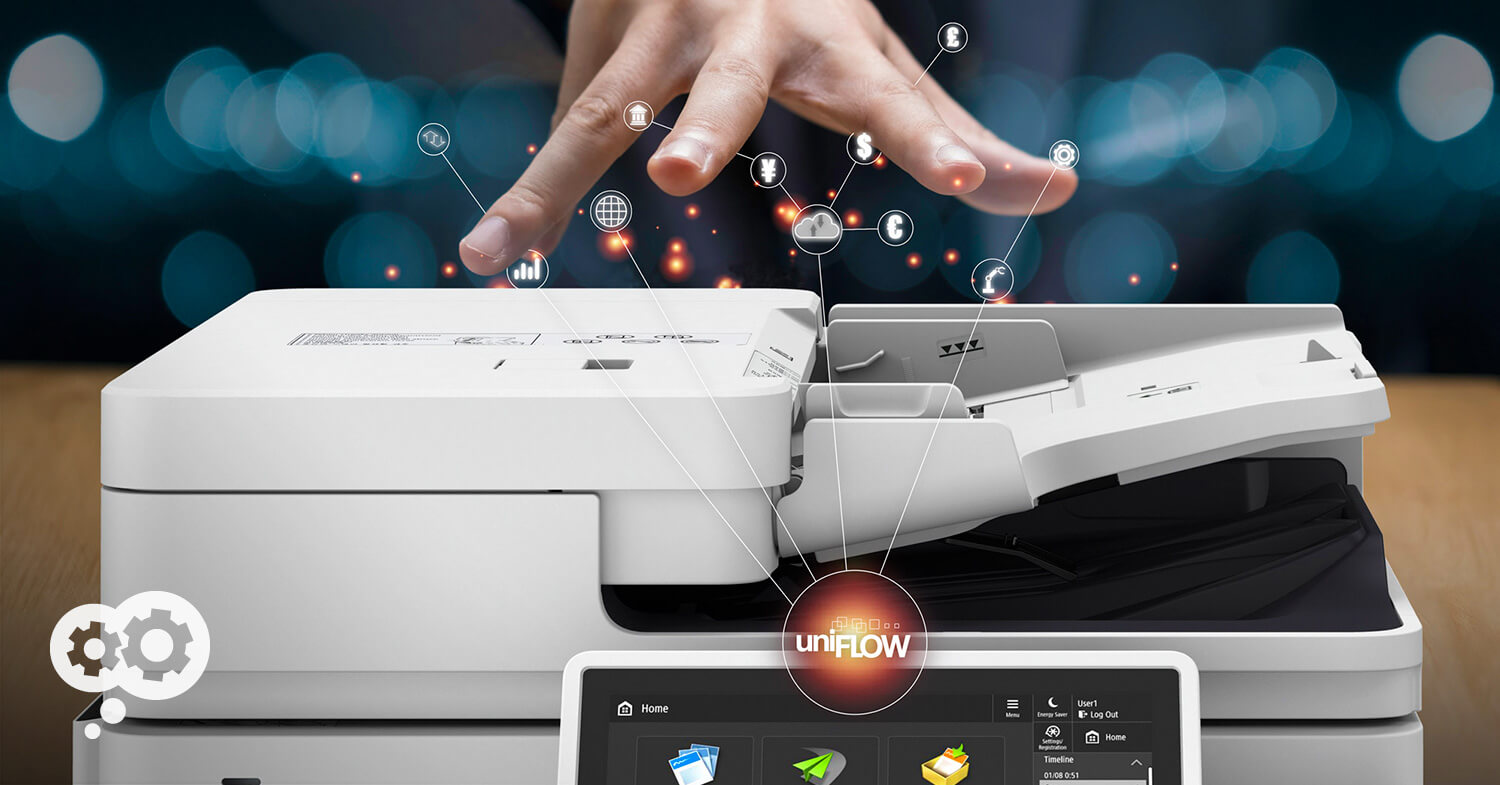 uniFLOW Online is designed to help reduce overall printing costs, maintain print and workflow productivity, and keep printed documents out of the wrong hands.
As the last 12 months has evidenced, work environments are ever-changing.
Armed with a laptop and a secure, capable Internet connection, employees have migrated to their homes to work, creating complexities in the way workflows are both structured and managed in (and outside of) the office. The COVID-19 pandemic aside, print/scan/network environments are often managed across multiple floors, departments, buildings, and locales.
As work culture and workplace structure remains fluid, business owners and IT personnel are tasked reigning in control over print and scan functionality, while ensuring cost/control savings, proper security protocols, and end user flexibility.
uniFLOW Online, a cloud-based printing, scanning and accounting solution, offers such functionality and flexibility; meanwhile, administrators maintain central control within a print and scan environment ... no matter the size.
The output management solution is designed to help reduce overall printing costs, maintain print and workflow productivity, and keep printed documents out of the wrong hands. Regardless of location, this solution is easy to connect, offers end users the same/print scan workflows as one would utilize in the office, and reliable, high-quality printing capabilities.
7 uniFLOW Online Features

for Managing a Fluid Print, Scan Workflow Environment:
Flexible Authentication. Users are required to authenticate at their compatible Canon device using a proximity card, PIN code, image log-in and optional PIN code, or department ID.
Send Print Jobs From Anywhere. Users can submit print jobs from their networked, compatible PCs, smartphones, tablets, or the Mobile Print & Scan App, and print job submissions will follow them from one compatible device to another.
Secure Printing. Users' print jobs can be retrieved at whichever networked and supported Canon models they choose, and print jobs are only released after authenticating at the device.
Print From Cloud. Users can print from connected cloud services on supported Canon devices. Such cloud services can include Box, Dropbox, Evernote®, Google Drive™, Microsoft OneDrive®/OneDrive® for Business and SharePoint Online. Folder browsing and finishing options are also supported.
Secure Document Scanning. With uniFLOW Online, users can scan documents directly from any supported Canon model. The lean and intuitive user interface — plus single sign-on to the secure "Scan-to-Myself," Scan to Email with Exchange Online, and "Scan-to-Cloud" workflows—help to bring about gains in productivity. Users can scan directly to the following cloud-based destinations: Box, Google Drive™, Microsoft OneDrive®, Microsoft OneDrive® for Business, Therefore® Online, Evernote®, Microsoft SharePoint®Online, Dropbox, and Concur.®
Track Print, Scan, Copy, and Fax Costs. Administrators can use the comprehensive uniFLOW Online Dashboard to view valuable analytical information. Device activity costs can be allocated to users or departments. If needed, administrators can even create different projects or cases under the cost center menu so that users can charge their print, scan, or copy charges accordingly.
Cloud-based Infrastructure. There's no requirement for local uniFLOW servers, and configuration and management of the system take place in the cloud.
Is your business ready to explore a cloud-based solution that ensures central control over a print environment of any size? Let's help you gain that control, and competitive edge, by introducing uniFLOW Online. Get started with a Print/Workflow assessment today!
SOURCE: Canon