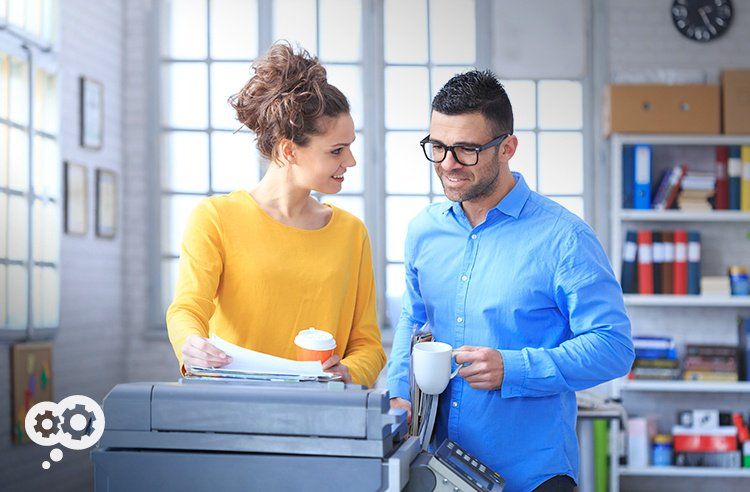 Buy one device and save money? Sometimes, but it doesn't always work that way.
Many small to mid-sized businesses (SMBs) strive for efficiency by placing their print/copy/scan devices in one, central office location. A location that is easily accessed by employees and with a bevy of paper and supplies at their fingertips. While this may seem like a good idea in theory, it's worth evaluating whether or not grabbing a print job from the digital copier has become an excuse to take a lap around the office and socialize.
In a survey done by Brother International Corporation, 61% of employees stated that they have conversations at the copier/printer and that they are four times more likely to always engage in conversations compared with just 31% who have conversations at the water cooler.
What's more is that when they have their print jobs, these same people are 98% more likely to stop by other colleagues' desks to chat about personal things, and only 28% more likely to chat about work. They're technically still working because they're getting a print job, right?
Retrieving a Print Job Is Work
Socializing aside, having one main hub for your copiers and printers can also impact printing behaviors. The survey revealed that many that use centralized multifunction printers (MFPs) are less likely to print at all because the device is too far away. Many times, when they do send a print job, they simply forget to pick it up—out of sight, out of mind I guess? This can also lead to devices being underutilized for their contracted monthly volumes.
Less Is Not Necessarily More
An alternative to centralization to consider is having a larger number of more basic devices spread throughout your office in key locations. Not only are devices physically closer to your employees, but everyone has a backup if theirs breaks or needs maintenance. Employees can get in, and get out, versus waiting on their document's order in a queue of many.
One Size Does Not Always Fit All
The fact is, more employees are sharing these devices than ever before, and needs vary among workgroups. InfoTrends' research suggests that those most reliant on print are within the legal, sales, and marketing departments, while IT and other admin functions tend to print less. Increasingly, booklets and reports are being replaced by digital versions viewed with laptops, tablets, and even smartphones. With a more balanced deployment of devices, SMBs can reduce costs and eliminate potential distractions by identifying the right printer to fit their departmental print requirements.
Brother sums up the survey best with this clever infographic:

One of the benefits of managed print services is intelligent device placement for maximum efficiency. Devices are placed where they'll be best used based on usage patterns and experience, not guesswork and where you happen to have room.
Interested in giving your fleet an honest assessment? We can help. We promise it will be a conversation worth having.