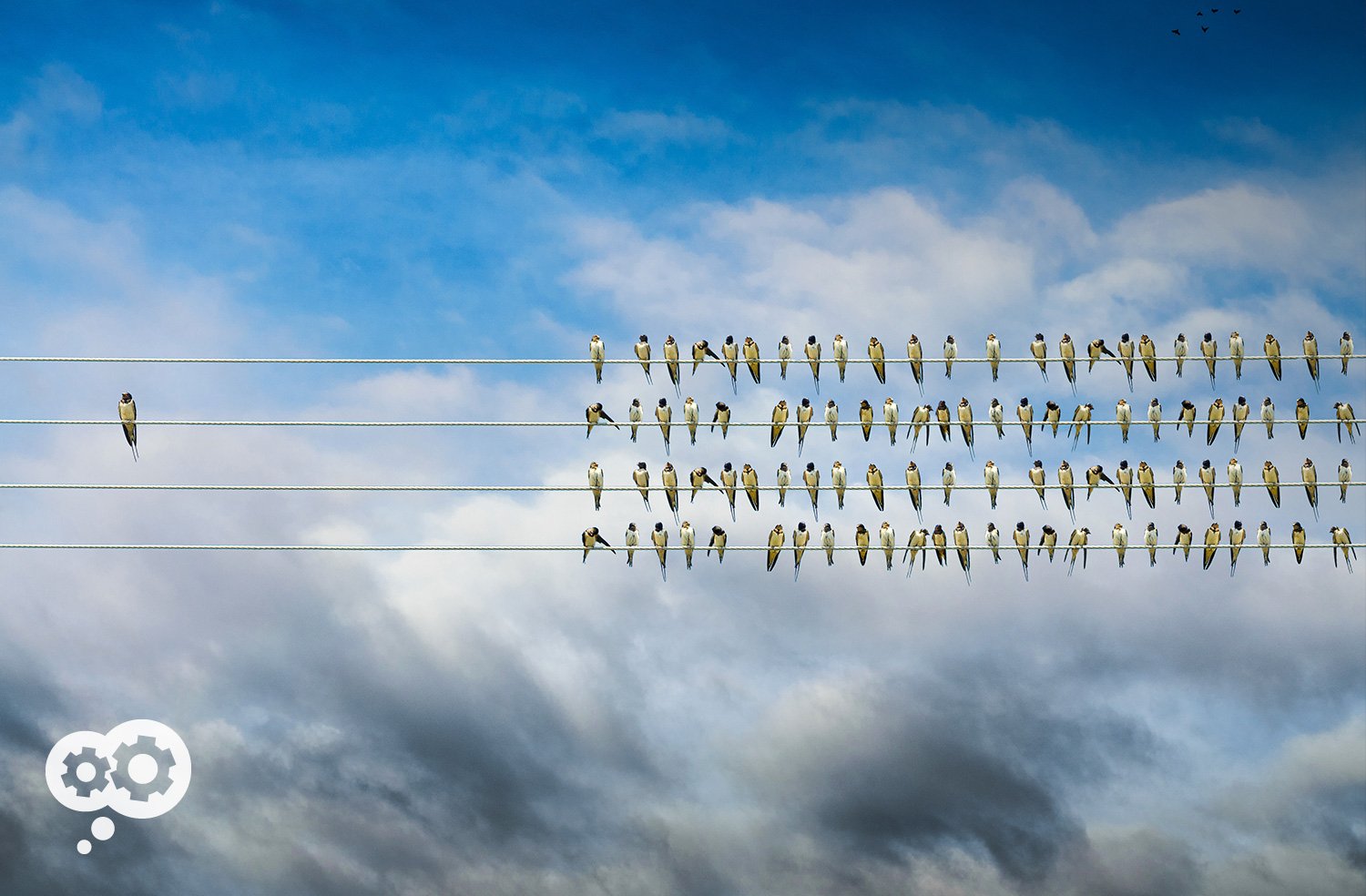 Those who embrace change in the way they conduct business every day, across an evolving digital landscape - from automating tasks to taking a firm stance on data and network security – will produce measurable business value and

soar ahead of the flock

.
Former General Electric CEO Jack Welch once said, "change before you have to."
Innovative leaders understand well the idea of change as the rule rather than the exception. In mid-flight, they do not hesitate to travel beyond the flock of the industry companions around them, even if it means flying solo.
Technology plays an intimate role in the potential innovation of businesses, particularly in seeking a competitive edge and a notable advantage in productivity. Those who embrace change in the way they conduct business every day, across an evolving digital landscape - from automating tasks to taking a firm stance on data and network security – will produce measurable business value and soar ahead of the flock. Assuming, of course, they do so strategically and with a partner that understands and thoughtfully considers their core business objectives.
Others? They'll have to change. Eventually.
Here in the new year, as we look ahead at the business technology environment marked by change – changing client needs, changing cyber threats, and changing opportunities for productivity, we pick out five that we have our eyes on in 2019.
5 Technology Trends that Will Help Organizations Soar Ahead of the Flock in 2019
1. Collaborating in the Cloud.
It seems that the more scattered the workforce becomes, the more that real-time collaboration is a must.
From marketing creative endeavors to executive boardroom initiatives, teams today seek solutions for fast cross-team collaboration; sharing documents in multiple stages, through multiple file types and sizes in a manner that fit their on-the-go reality.

Cloud-based applications such as Box create a shared online work space that fuels real-time collaboration. Cloud-based content management solutions like this enable you to securely share files, and get real work done anywhere, any time, from any device. They also provide security controls to protect scattered devices –and the sensitive documents shared between them - within a centralized managed environment.
2. Automating the Production Print Run.
Challenges for print operators and print managers in the production business are at an all-time high. Just a few they face in 2019:
Increasing customer demands
Faster delivery and lower prices
Shorter run lengths
Higher number of small jobs
Many different job submission channels
A viable solution for these challenges is removing the burdensome, often manual tasks that don't immediately relate to the production print run itself. Concepts such as web-2-workflow, we believe, will resonate with production printers trying to maximize productivity and meet increasing demand.

Web-2-workflow introduces a new standard for streamlining and automating the production process from end to end. Canon's PRISMAdirect accelerates this process for the print operator, from order acquisition, pre-flight, made-ready, client communication, all the way to production and fulfillment.

Read more about that here.
3. Maximizing the MFP's Potential.
It prints and copies. But to what degree is it making your organization more productive? IT departments and small business owners should expect more from their Multi-function printer (MFP) moving forward.

The MFP is the cornerstone of your workflow environment. This stand-alone solution integrates with and offers opportunities for a variety of workflow solutions. Among those:


Output Management: Various levels of control and tracking can help reduce wasteful practices and help your IT team control access to confidential information.
Document Capture and Distribution: Streamline workflows by digitizing data, sharing information and distributing to a variety of destinations. Utilize customizable user authentication, data tracking and distribution options.
Mobile solutions: Amid a highly-mobile workforce, users can print and scan on the road or at home using mobile solutions that integrate with their MFP.
4. Recognizing Security as a Necessity.
In a digital world boiling over with new potential, security remains a top-level priority, and rightfully so. According to Gartner, the information security market is expected to grow 8.7% in 2019.

For the past two years, network security concerns have been wide ranging and rampant. The WannaCry Attack in 2017 targeted computers running the Microsoft Windows operating system by encrypting data and demanding ransom payments in the Bitcoin cryptocurrency. It brought with it widespread awareness of emerging Ransomware threats. In fact, a Proofpoint study in 2017 found that among malicious email threats in 2017 Q2, 68 percent were ransomware.

In 2018, Social Engineered Attacks gained momentum as an ever-present threat for businesses. A term used often by IT pros and security experts, Social engineering is simply the manipulation or the taking advantage of human qualities to serve an attacker's purpose. According to Proofpoint, attempts to trick users into giving personal information spiked more than 500 percent from the first to second quarter of 2018.

With the growing awareness of online threats, business leaders are saying enough is enough. Cybersecurity will increasingly become an agenda item inside the boardroom as executives look to firmly protect their data.

Multi-function Printers, as a hub for processing and sharing sensitive information, play a big role in any organization's data security strategy. Security platforms like uniFLOW offer multilayered protection from a range of authentication options for users, controlling device access by individual users or groups, and capturing/archiving of all imaging activities (print, scan, fax, copy and email).

Developing- and reinforcing - an appropriate cybersecurity strategy is a full-time gig, leaving many IT leaders and business owners to turn to Managed Network Services. The Managed Services market continues to grow (A Market Research Future report predicts "a spectacular growth by 2022, surpassing its previous growth records"), driven by the increasing need for advanced threat protection.
5. Embracing Change in Information Management.
A recent AIIM study titled "The State of Intelligent Information Management" found that "92 percent of organizations believe that SOMETHING needs to change and that they must modernize their information management strategy." At the same time, "less than 1 in 5 organizations are where they want to be regarding the core transformation challenge of 'understanding, anticipating, and redefining internal and external customer experiences."
The rising tide of information necessary to gather and manage creates a demand for better, more streamlined management practices.
A simple question to ask is: "Where is your organization on its digital transformation journey?" Digging into this through a core discovery process is an important first step in analyzing how your organization stores, shares, manages and secures its core essential information, and what methodologies could be introduced to create positive change.
A new year is often tied to a call for becoming better versions of our previous selves. When considering your organization's state of technology where could you improve, innovate and ignite positive change?
Datamax takes its relevant approach to heart. When thoughtfully putting together proposed solutions, we do so with a laser focus on the "business-specific" needs you convey and a collaborative spirit in providing the technology that matters to you. Consider these words...
"What's your vision and mission?" They also frequently say, "Where do you want to be in one year, two years, and down the road?" In my opinion, the better question is, "What do your customers want this year, next year, and beyond?" -

Jaynie L. Smith, Business Consultant to Datamax Inc. and CDA
When you partner with Datamax, you may be soaring ahead of the industry flock. But you're never flying solo. Begin your journey for change by digging into your current environment, in search of new discoveries!