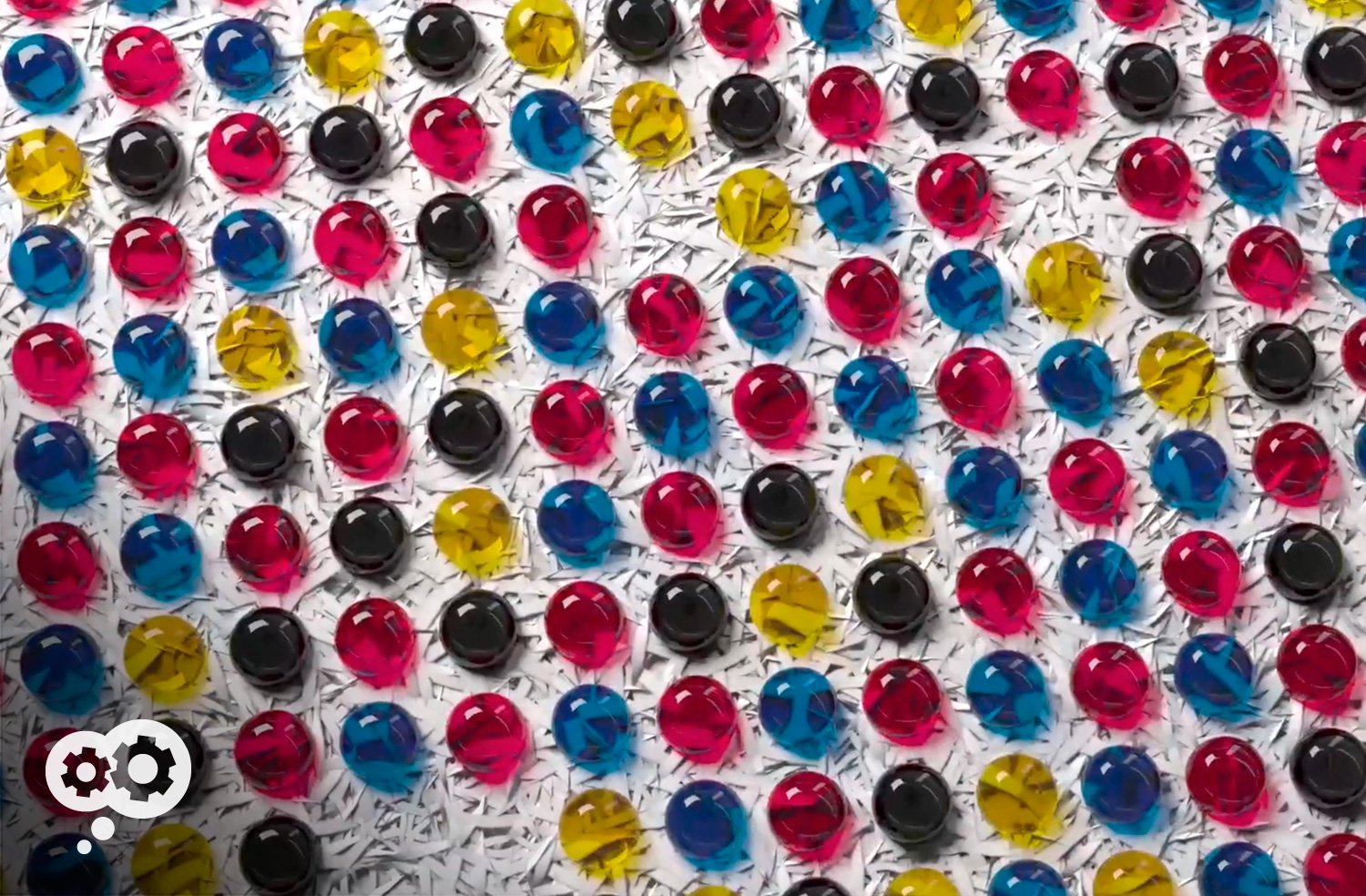 Canon's UVgel technology, as featured in the Océ Colorado Wide Format Series, is retaining the advantages of prevailing printer technologies while eliminating many of the compromises.
What constitutes a game-changer?
Atari's ball-swatting back and forth game Pong spawned a $22 billion home gaming industry. Michael Jordan leapt from the free throw line for a spell-bounding dunk. The IBM PC Model turned personal computers from a hobby into a legitimate business tool.
Game-changers exist across all professional endeavors. They introduce a new direction and have immediate impact. They breed change. They strike fear. They literally change the game. Print technology is no exception. Enter Canon's signature UVgel technology.
The story goes that in 2004, Océ wanted to create more productive printers than the company could manage with regular UV inks. At such high speeds, ink droplets were pooling together, distorting the image.
For one member on the project team, the solution presented itself one morning under the shower: add a gelling agent.
Fast forward almost 10 years and several false starts, and Canon's UVgel technology, as featured in the Océ Colorado Wide Format Series, is retaining the advantages of prevailing printer technologies while eliminating many of the compromises.
3 Ways the Océ Colorado, and its Signature UVgel Technology, are Game-Changing.
1. The Technology is Game-Changing.
At the core of the Océ Colorado Series of printers is its signature Canon UVgel technology. The gel droplets, when heated, liquefy until they make contact with the media; from there, they return to their original state and instantly "gel" to the media. This results in precise dot gain and positional control, perfectly repeatable images and instantly cured, durable prints.
The stages of the Canon UVgel printing process are as follows:
Inside the printheads, Canon UVgel ink is heated and turns from gel into liquid.
The temperate controlled platen maintains the substrate at a constant 28℃ temperature regardless of environmental factors.
On contact with the media, the liquefied ink drops return immediately to their gel state.
In their gel state, the ink droplets are 'pinned' instantly to the media, assisted by a partial LED 'precure' process.
Full LED curing takes place at a later stage, after the image swathe is completely formed and gelled on the media.
Key advantages of this game-changing UVgel technology:
Low-odor prints, important for indoor usage
No drying time
High printing speeds
Low temperature, low energy,
UV LED curing enables use of heat-sensitive media
2. The Creative Possibilities are Game-Changing.
The Colorado supports even the wildest of creative imaginations.
In a diversifying market, printers need the flexibility to let their imaginations run wild. With this series, there are seemingly no limits – indoors or outdoors.
Consider these applications as just a few examples:
Deep Matte Designer Wallpaper - The highest quality wallpaper has a deep matte finish. With Océ FLXfinish technology, you can increase the perceived value of your wall decoration with the push of a button.
Neatly Folded Canvas Prints - Produce gallery-quality canvas prints with perfect creases thanks to the elasticity of the Océ Colorado 1650 printer's UVgel inks.
Eye-catching Front-lits and Back-lits - Stop passersby in their tracks with vibrant front-lit or back-lit displays. Canon UVgel technology offers rich colors, elegant matte, and great blocking power.
Stunning Double-sided Banners - Help lower your operational costs and increase your margins with accurate and easy to produce double-sided banners, for indoor or outdoor use.
Jaw-Dropping POP Posters - Nothing draws attention like a huge poster print. Single-sided, double-sided, it is all possible with the Océ Colorado series. And with the scratch-resistant UVgel finish, these are investments that last and last.
3. The Challenges it Conquers are Game-Changing.
Challenges printers face today often revolve around time (one-day turnarounds are the norm), efficiency (more jobs in less time), and cost control (the traditionally expensive wide format ink quickly comes to mind).
Consider these capabilities:
The new Océ Colorado boasts a top speed of 1,709 square feet per hour and POP printing at 430 square feet per hour – faster than any competing system in this segment, according to Canon.
The low-temperature LED-UV curing system moves independently from the printing carriage, enabling uniform post-print UV curing that further contributes to print speed and print quality.
Unattended printing, automated quality assurance, unattended roll changes, and reduced print waste also contribute to overall productivity.
The UVgel technology allows for more finished jobs from a simple printer without increasing staffing costs. It reduces ink consumption by a staggering 40 percent, since acoustic nozzle testing uses no ink at all.
Low heat of UVgel printing process means you can always choose the most cost effective media type. The gel droplets remain stable on the media, with minimal dot gain, making it possible to deposit more ink in fewer passes. The result is more efficient ink usage.
The print game is changing – applications are widening well beyond the scope of traditional "print." Vehicle graphics, perforated graphics, high-rise building displays, even packaging: Printers must explore and embrace new market opportunities for both existing and, perhaps more importantly, new customer bases. Are you ready to meet these challenges with game-changing technology?
If you'd like to learn more about the Océ Colorado, along with Datamax's full line of Canon & Océ Wide format printer series, schedule your production print assessment today!