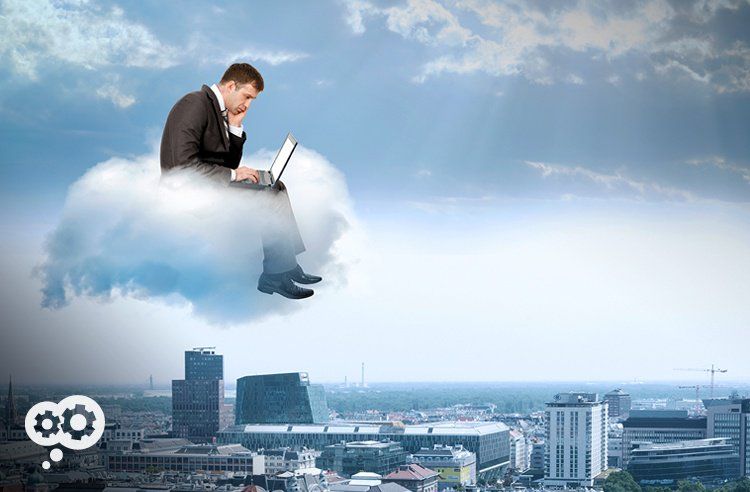 uniFLOW Online (SaaS) provides the benefits of device authentication, secure follow me printing, secure mobile printing, full cost control with online reporting, and more — right from the cloud.
For many organizations, printing continues to be an enormous cost issue that remains entirely untracked and uncontrolled. Pretty amazing since managing print output has been such a hot topic for so long. Well, consider granting us an indulgence (and a bit of your precious time) and give us another try with another approach.
We believe finding a solution that provides practical insight into your print environment is essential. It's ablility to offer the tools and control needed to help reduce waste and boost productivity can be the difference in whether your organization finds itself "on cloud nine" or "under a cloud" when it comes to managing print spend.
Our job, as your print consultant, is to make sure our heads are never in the clouds when it comes providing the latest ideas and answers for improving print management and associated expense management. To that end, we're excited to share with you uniFLOW Online, designed to provide the benefits of device authentication, secure follow me printing, secure mobile printing, full cost control with online reporting, and more—right from the cloud.
Our Cloud Nine (9) Print Management features you'll find in uniFLOW Online:
1. Cloud-based Infrastructure
uniFLOW Online has been developed from the ground-up to utilize the benefits that come with the widely used Microsoft Azure™ cloud platform, which houses the commonly used Microsoft Office 365, and it provides superior enterprise platform security, scalability, and resilience for small to medium-size businesses. With uniFLOW Online's innovative technology there is no requirement for a local server.
2. Powerful Cloud-based Systems Configuration
All system configuration and management take place in the cloud, and administrators are furnished with online reporting tools and dashboards. For normal print operations, continuous connection to uniFLOW Online is not required.
3. Flexible Authentication
Document security is preserved as a user has to be physically next to a device to gain access to his or her personal secure print queue. To release a print job, a user simply authenticates using his or her company proximity card, or by entering a PIN code on the screen of the Canon imageRUNNER ADVANCE.
4. Print Confidential Documents Securely
Secure management of documents, particularly in the cloud, is a key concern for today's businesses. uniFLOW Online delivers the most secure cloud printing platform available, as all network print jobs stay securely within the customer's local network, never making their way past the customer's firewall, and are never stored in the cloud, ensuring that documents are always safe. The only information stored in the cloud is configuration and accounting data.
The close integration with Canon imageRUNNER ADVANCE (MFP) systems offers improved flexibility as print jobs follow users from device to device, enabling documents to be securely printed from any compatible imageRUNNER ADVANCE system.
5. Full Cost Control in the Cloud
Businesses intending to improve efficiency and maximize their IT investment can take control of print and copy costs using the uniFLOW Online reporting tools. Administrators can track their organization's printing and copying costs to ensure that they are charged to the correct department.
Central reporting on print fleet usage and performance can also help administrators identify areas where printing and copying costs can be reduced. The reporting features can also be used to address sustainability requirements by monitoring and analyzing the environmental impact of an organization's print footprint.
6. Send Print Jobs from Anywhere
uniFLOW Online meets the demands of a modern business by providing a fluid mobile printing solution for employees, making it an ideal solution for today's workforce. Regardless of location, users can use smartphones or tablets to print documents securely.
7. Secure Print Queue
All jobs submitted appear in a user's secure print queue from where they can be printed, and afterward, accounted and charged for. Although mobile print jobs are part of the secure follow me print environment, upon submission, they are held in uniFLOW Online, outside your firewall.
8. Support in the Cloud
The introduction of uniFLOW Online will enable those with limited in-house software experience or capacity, a way to provide their users with an effective and simple network print output management solution that complements Canon imageRUNNER ADVANCE (MFP) systems.
9. Subscription-based Engagement

uniFLOW Online is Software as a Service (SaaS) subscription-based program simplifies deployment and helps reduce the costs of acquisition and implementation.
Sound promising? Why not put our managed print consulting experience to work for you? If you'd like to discover the economics of your current printing practices and how much your company could be saving with a cloud-based approach to managing print, we'll love help you uncloud the issue!