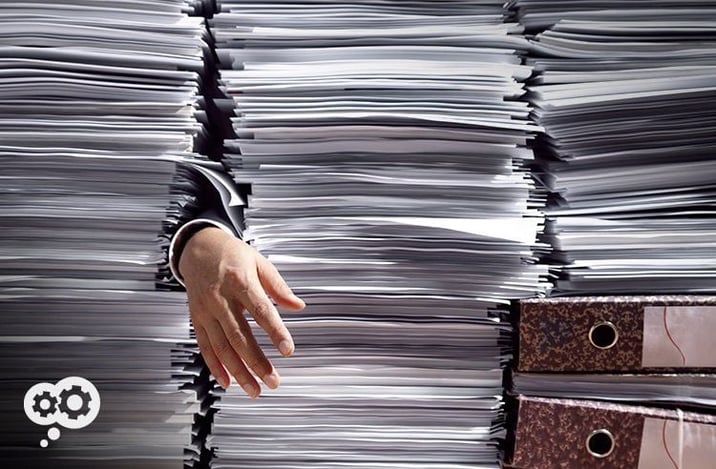 Are you hoarding paper documents that you don't really need?
Legal departments within companies and law offices in general are often resistant to the idea of paper-less processes. Research* indicates that "Legal" is most resistant of any department to paper-free work processes.
Look around your office, how much space is given over to paper files? How much are you spending each month for off-site file storage?
Legal requirements vary, but you usually need to keep files for three years though many law offices keep files for five years or more. Doing so on paper hogs space you could use for another office, large espresso machine, movie room, employee lounge, or whatever else you need.
Didn't realize you could rid yourself of that paper? Read on.
Use Those Copiers
Your copiers can be ingestion points for completely (or mostly) digitizing your practice. Combined with document capture software and document management tools, your multifunction copier can scan your paper for easier sharing, faster retrieval, and storage in a document repository – and, of course, e-filing.
Don't think of your copier as just a copier, but as the front-end to automating and digitizing your office. For more on the business value of document management, click here to read Find and Use Office Documents: The Basics.
With a roomful of paper, you may need to consider backfile conversion by purchasing a larger volume scanner yourself or outsourcing.
What the Fax
If you still use fax technology, you can still create less paper. Think of a fax as essentially a scanned image that is printed out on the receiving in – except you don't have to print your faxes. A fax can be captured by software and added to a case file, a repository, email, or wherever else the fax needs to be distributed electronically.
You could also consider getting rid of these documents entirely. What do you really need? If you do have a culture of keeping everything on the chance that you might need it, one day, then a digital archive is something you definitely need to consider.
Don't I Need Paper for Legal Reasons?
You may have original documents that you want to keep. For the majority of business records, the legality of digital document images as legally valid substitutes for the originals has been settled for years. There are two rulings (in the United States) relevant here.
The Uniform Photographic Copies of Business and Public Records as Evidence Act (UPA) (US 1128-0020-00) - Enacted by almost all states, it specifies that reproductions of records have the same legal significance as the original and may be used in place of the original for all purposes including evidence.
The Uniform Rules of Evidence (US 128-0060-00 to 0170-00) - The other major uniform law, "The Uniform Rules of Evidence", has been adopted by the United States federal courts and 34 states (including Texas). The Rules of Evidence allow a duplicate to be admissible in evidence "to the same extent as an original" and defines a duplicate as a counterpart produced by any technique "which accurately reproduces the original."
Depending on a particular case and your business' records management plan, you could need to retain some portion of your original paper records. However, for most businesses and legal purposes, a digital version will be acceptable.
Guidance on Document Management and Imaging Systems
Here are a few resources that focus on the legality of digital images:
AIIM, a non-profit association dedicated to information professionals, has a variety of documents and guidance on the legality and use of these technologies:
ISO 12654 Electronic imaging – Recommendations for the management of electronic recording systems for the recording of documents that may be required as evidence, on WORM optical disk
ISO 12037, Electronic imaging – Recommendations for the expungement of information recorded on write-once optical media
ISO 15801
AIIM ARP1-2009 Recommended Practice: Analysis, Selection, and Implementation of Electronic Document Management Systems (EDMS)
Information Requirements Clearinghouse – Run by Donald Skupsky, the IRCH offers consulting around retention management of business records and also has an excellent blog and resources concerning the intersection of legal obligations and digital records management.
eFileTexas – The Texas government website for e-filing information.
Productivity Awaits
You might be thinking that this sounds like a lot of work and that your current paper-based workflows work just fine. I'll leave you with this statistic: 60% of document imaging implementations have an ROI of 12 months or less – 77% show ROI in under 18 months.*
Plus, with the Texas mandating e-filing for many cases, why not consider going with digital document management?
Be sure to look into DocCare, our planning to implementation document management services. Click here to learn more about DocCare.
*AIIM Industry Watch – Paper Wars