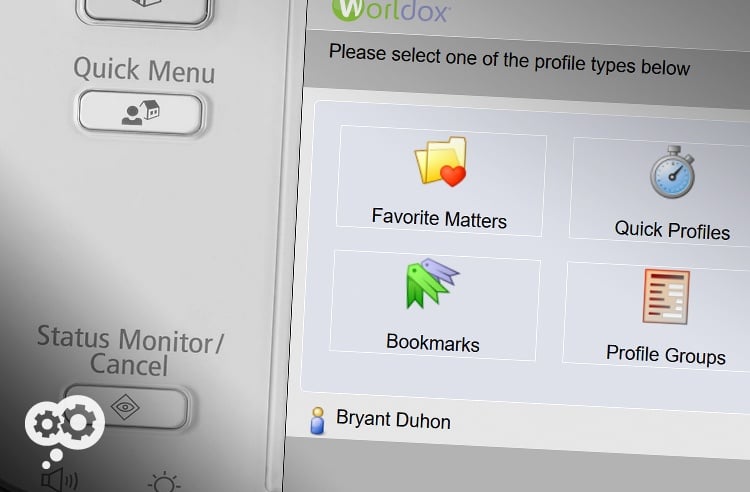 Law firms can automate document workflows directly to Worldox from MEAP-enabled copiers.
For law firms – when it comes to maintaining efficient workflows – technology plays a leading role. With the right technology, law firms can save valuable time and money by limiting the number of manual steps involved in their business.
And Canon, a leader in digital imaging solutions, offers both hardware and software technologies that can help your law firm do exactly that – technology like (MEAP) software that runs on Canon's imageRUNNER ADVANCE platform and certain imageRUNNER MFPs.
What is MEAP software and how does it help law firms? That's what we'll discuss in this post.
MEAP (Multifunctional Embedded Application Platform)
MEAP is a Canon-developed, JAVA-based application software platform embedded in all of Canon's networked imageRunner devices.
Specific to legal workflows, Canon paired with Worldox to create a MEAP connection for Worldox's software on this line of Canon copiers.
This pairing provides users with a driver-less, server-less mobile print and scan solution that allows users to enter client-related information directly at the multifunction copier's control panel.
The application provides full-featured information capture and analysis without the need for a hardware terminal. The MEAP application was designed in collaboration with World Software Corporation and Worldox users and is a part of Canon's Scan to Worldox solution.
How Does This Help Law Firms?
It allows legal professionals to easily scan hard copy documents into their Worldox document repositories indexes directly from a Canon imageRUNNER ADVANCE MFP with minimal interaction – saving them time and money.
Canon looked at how law firms handle documents, use copiers, and work with document management systems.
After a hard look, it was clear that a server-less (MEAP) on Canon imageRUNNER ADVANCE devices could be leveraged to improve document access and integration tasks for law firms of all sizes.
When combined with compatible Canon MFPs, the application can benefit firms by reducing costs and improve security by providing control over access to important legal documents. And, mirroring the Worldox desktop, Scan to Worldox is accessible directly from the Main Menu of imageRUNNER ADVANCE devices (and supports both locally hosted and cloud based installations of the Worldox document management system), helping law firms to streamline workflows.
This seamless integration with Worldox and server-less design is the technology law firms have needed to improve productivity, streamline workflows, reduce costs, manage documents, and – of course – push fewer buttons.
Want more information? We can help – we're one of Canon's Advanced Partners in the Dallas/Fort Worth area and fully certified on Canon's imageRUNNER solutions. You can also find information about MEAP in this document from Canon.

Worldox users can investigate and create workflows
using the online Worldox Simulator. Click here to access.