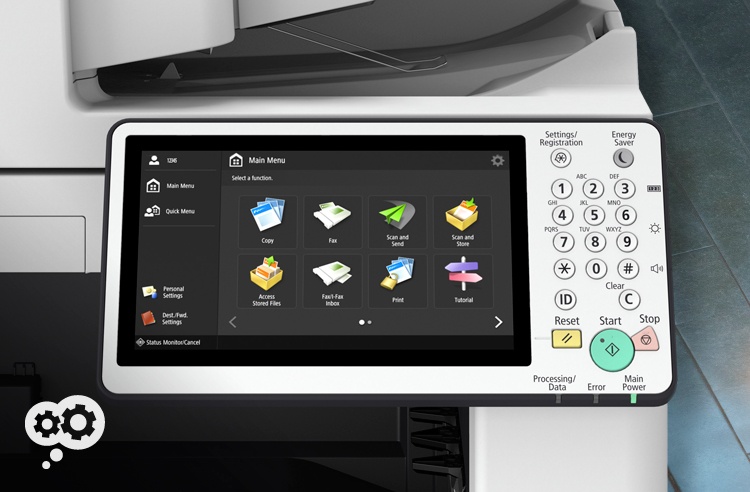 Canon's third generation imageRUNNER ADVANCE Series multifunction printers are designed to focus on helping businesses become more effective by helping you get your jobs done quickly and with little confusion.
What we know today is smart phone usability is a hot topic. Wherever you see a crowd, its nothing but a sea of faces looking down — indefinitely. We love these devices and utilize them to more freely consume information and quickly get things done like never before. What we also know, is users WILL NOT hesitate in chunking a phone (regardless of contract status) if the user interface (UI) and operation thereof (pardon the French) "sucks."
Whatever technology-enabled devices you utilize today, they better be productive and easy to use as the bar has been set very high for user interfaces and more importantly – user attitudes.
Enter the copier.
For folks under intense time pressure to complete tasks performed on a copier or multifunction printer, a poor device interface feels like a death of a thousand (paper) cuts. The challenge businesses and organizations continue to share with us, is the need to find ways to reduce time spent completing everyday tasks so their employees can focus on the real and specific requirements of their company roles.
Discovering solutions that integrate seamlessly with software solutions to provide powerful output management, document capture, information management, and automated workflow to streamline daily business processes continues to be top of mind for business leaders we talk to. Spending more time at the copier is not what they have in mind. Spending less time is.
Enter Canon.
Canon's third generation imageRUNNER ADVANCE Series multifunction printers are designed to focus on helping businesses become more effective by helping get jobs done quickly and with little confusion.
These devices are flexible and customizable so that they display the functions and capabilities that matter most. Fleet Administrators have the ability to define which functions are available to each device or user. This provides more precise control by enabling Administrators to specify which functions are available to each user when they are using the user interface, which all means more "relevance" at the console and less "wasted time" completing the job.
Albeit from a different marketplace, it appears that Canon, without question, has taken the lead with the most preferable copier user interface in Canada. Based on the recent and exhaustive research of the Environics Research Group Ltd., "7 in 10 (74%) Canadian office workers rate the Canon copier easiest to use overall compared to the Xerox, Konica Minolta, and Ricoh copiers." Click here to see all the findings.
A New Interface

– What's in it for the User.
A newly designed flat operation panel has been adopted for the third generation imageRUNNER ADVANCE Series. It includes a larger screen (10.1" for all third generation models) and operations to improve usability, such as flick and pinch features that are common with many smartphones. An updated touchscreen sensing technology is introduced, which is designed to better respond to the intent of the user.
The screen is now wider, showcasing the function shortcuts along the left side of the screen as well as incorporating the Main Menu and Quick Menu buttons (previous generations were hard keys). The new Main Menu design has also increased the number of pages and buttons. A new set of icons at the bottom indicate page location and the top showcases an area to display user name on the UI.
So, as it is with smart phones, you can similarly:
1. Flick
Switch pages and scroll lists by swiping finger up/down and left/right. Swipe Left/Right on the Main Menu, Quick Menu, Status Monitor/Cancel Screen and the Mail Box/Advance Box Preview Screen. Swipe Up/Down on the Copy, Access Stored Files, and Send screens with lists (address books, folders, etc.)
2. Pinch
When using Pinch, you can zoom in and out of documents in the preview screen. Screen Magnification can also be enabled in Personal Settings under Accessibility. The default is set to [Off]. When [On], you can enlarge the Main Menu or function screens using two fingers. (Screen Magnification can be used on any menu or function screen. It is not available on the following screens: one touch menu, [Options] menu in Copy/Box Send, Settings/Registration.)
3. Drag & Drop
Drag and Drop allows you to rearrange the button layout of both the Personal and Shared Quick Menus. Control by toggling on-off in the bottom right corner. Take a peek at the following video to see for yourself...
A Unified Platform – What's in it for the Administrator.
For those who have the responsibility for fleet management and continuity, this is a big deal!
All Canon copiers in the third generation imageRUNNER ADVANCE family utilize a common source code for firmware development. This Unified Firmware Platform allows for version upgrades, including additional functionality, to existing models in the same generation. Unified Firmware Platform allows for an increased value proposition of the device over time with continuous feature improvements, as well as consistency across models in the same generation.
If you are interested in learning more about Canon Technology advancements and what Datamax's award-winning service approach can do for you, we would love to visit!