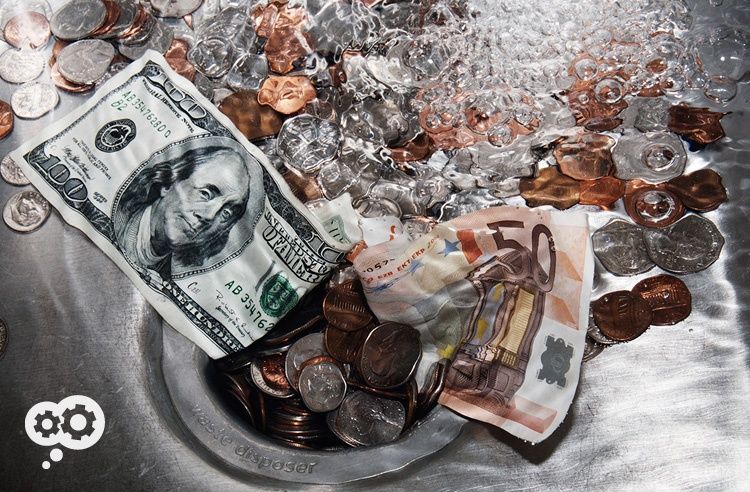 Learning more about how selecting the right mix of office equipment will make your life easier and save your office money is a good first step.
You can save up to 30% of your printing costs by partnering with a managed print services (MPS) provider. This is a commonly accepted and used statistic based on research from industry analyst Gartner.
But that's such an abstract number. What's it mean? And what are some of the hidden costs of printing?
Here are 8.
Not Using Print Rules
If you aren't using rule-based printing to control print output, you're literally printing money – pennies at a time. Whether defaulting to draft quality output or controlling who can print in color, an effective system of rules will reign in your printing costs. Read Rules-based Printing and Bulging Bottom Lines for rule ideas.
Toner's out
Constantly having to remember to order ink and/or toner is just one more thing on your already too-long to-do list. You can schedule automatic delivery of supplies or engage with an MPS partner in which part of the service is proactive management of supplies.
Outsourcing color
Color documents provide a pop that attracts customers and attention to your documents (Read Just a Splash of Color). Properly managed and set up, in house color production can be more cost-effective than outsourcing color print jobs (just keep an eye out on printing to the color printer or copier when black and white will do).
Troubleshooting
When the copier goes down or a device doesn't connect to an employee's PC, your IT staff will have to take time from their day to troubleshoot. While connectivity issues are often simple to fix, many times an issue with a piece of hardware requires a call to your service provider anyway. These interruptions in your IT staff's day are a drag on their productivity.
Personal Printing
We've all printed something personal at the office – a recipe, a field trip permission form for school, concert tickets – but widespread personal printing will cost your office money.
Multiple Models and Manufacturers
While a mix of devices to meet different office needs is often a good strategy, a hodgepodge of devices thrown together over the years is a drain on productivity. Maintaining different consumables, maintenance and/or service contracts, driver updates, etc. can be a logistics nightmare.
Desktop/Personal Printers
Allowing employees their own printers is false economy. While the arguments for productivity (not having to walk to a printer down the hall) and security (sensitive documents remain close by), they are outweighed by cost of ink cartridges over time, the fact that larger volumes can be printed more quickly and economically on larger printers/copiers, and that security concerns can be negated with walk up release of print jobs.
You Have No Idea
You can't manage what you don't measure. If you don't know how much you print, then you don't know how much you're spending on print – in either time or with your budget. Curious to see how much you print now? You can download free print logging tools that will track your printing. Software from PaperCut, one of our partners, is a key component of many of our managed print services partnerships. The company has basic print logging software available as a free download. This tool, and others like it, provides a glimpse into the analytics available in a well-managed printing environment.
Odds are, at least one of these eight reasons is familiar to you. If you found yourself nodding your head as you made your way down the list, learning more about how selecting the right mix of office equipment will make your life easier and save your office money is a good first step.
Get started by reading Your Guide to Printers, Copiers, and Scanners by clicking on the image below (it's free).