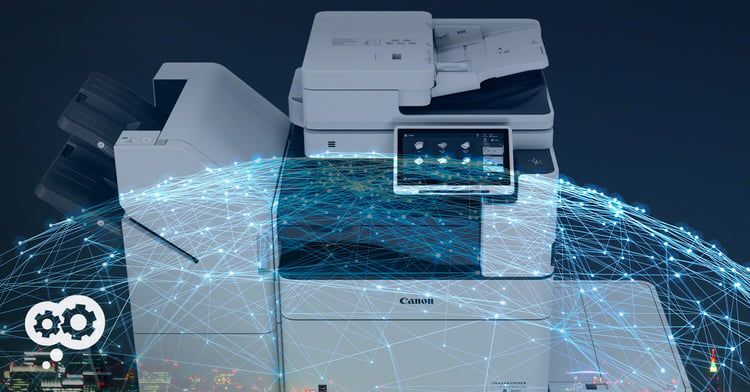 When it comes to security, MFPs should be treated just like any other endpoint on the network.
So, it's time to finally upgrade your copier(s) or MFP(s). How seriously have you considered security?
Although speeds, feeds, and cost of ownership are still relevant elements of pre-sale discovery and dialog, a heads-up sales consultant will also proactively introduce MFP Control and Security to the conversation. They know, when it comes to security, MFPs should be treated just like any other endpoint on the network.
To achieve security stability, MFPs should be equipped with the tools needed to help secure information, protect against threats, comply with organizational security policies, and integrate with network activity monitoring to help users quickly identify and act against potential suspicious activity. ... And to achieve that, you need a sound strategy and a savvy technology partner.
Here are five essential areas to assess prior to pulling the trigger on your next purchased or leased MFP(s):
1. Access

to MFPs

MFPs are typically shared across employees within a given department and even across departments. They may also be subject to use by authorized guests and are often located in areas of the workplace where they may be accessed by unwanted users. This makes it important to put measures in place to control access and usage of the device itself, restrict specific functions of the device, and limit the destinations to which information can be transmitted.

When assessing controlling access, determine if the MFP can:
Implement authentication/log-in to control device access and limit output sitting on the tray.
Set specific access rights for individuals, departments, and guests, yet meet their needs.
Set access rights at device level or by individual function (copy, send, etc.).
Restrict send destinations to help prevent information from being sent to unauthorized recipients.
2. Information Transmitted or Stored

on MFPs

MFPs have evolved to become sophisticated, connected devices that can transmit and receive information over a network, store information, and connect to cloud services. This may include sensitive business information, important client data, or confidential employee details that should be protected from being intercepted by unauthorized parties.

When assessing the protection of information transmitted or stored on the MFP, determine if the MFP can:
Encrypt image data before storing to the hard drive, overwrite temporary data after each job, and erase all user data/settings at end of life to help protect confidential information stored on the hard drive.
Disable unused functions and communication ports to limit vulnerability points.
Configure communication settings with the latest available protocols to help protect data transmission.
Encrypt the print data in transit from the user's workstation to the MFP.
Capture, archive, and audit device-related activities to help limit the leaking of important and valuable information.
Update firmware on a regular basis across the product line to ensure the latest fixes are implemented and to access updated security enhancements and functions.

3. Cyber Threats

to MFPs

With MFPs being connected to a corporate network, they can become a potential target for hackers attempting to gain access to the device or to use the MFP to gain access to the network and corporate data. It's important to put measures in place that are designed to allow only known, approved firmware and applications to run on the device and to protect against the tampering of firmware and applications. IT management should also have the ability to monitor activity so that they can quickly identify and recover from potential threats.

When assessing cyber threat protection, determine if the MFP can:
Verify integrity of boot code, OS, and applications during start-up.
Utilize whitelisting to help prevent malware execution and protect against tampering of firmware and applications.
4. Security Settings and Device Activity

for MFPs

IT teams are typically managing a fleet of MFP devices. This can be a burden if there aren't proper tools in place to help ensure that security settings can be established with ease, made consistent across devices, and deployed across the fleet. Additionally, it's important to put measures in place to help ensure that these security settings remain configured and notification is provided for attempted changes.

When assessing security settings and device activity, determine if the MFP can:
Easily establish print security settings remotely and from a central location.
Establish a dedicated password to protect these settings. (It should be different from the device administrator's password.)
Efficiently distribute consistent security settings across multiple devices in the same fleet.
Monitor print security settings and provide notification of attempted changes.
Automatically revert back to established security settings if changes are made.
Integrate with SIEM systems for comprehensive monitoring and notification of suspicious activity.
5. Regulation, Compliance

and MFPs

In today's digital world, where cyber threats are more prevalent, government regulations compel organizations to meet criteria or risk facing penalties. Responding to regulatory compliance requirements can be complex. And since an organization's sensitive information may be interacting with MFPs, they can become a component of compliance initiatives.

When determining the best technology solutions provider for addressing Regulations and Compliance Efforts, consider the following:
Align with an office solutions provider with a core interest in, and knowledge of, relevant regulations and standards.
Consider industry- and government-mandated regulations (such as GDPR, CCPA, HIPAA, Sarbanes-Oxley, PCI, etc.) and their impact on how your organization handles information.
Leverage a team of dedicated specialists in specific vertical markets and information governance.
The reality is that the wild, wild Web is a lawless place, and as a result, developing an effective IT security program (including endpoint print devices) can be a daunting challenge. Your security program must protect your most important data, systems and endpoint devices, while mitigating potential and dangerous security threats.

There is tremendous pressure to keep your security program updated and to promote an approach that accounts for changing business priorities, shifting security controls, and new attack techniques. In addition, you must accomplish this all at a reasonable cost and with minimal business disruption. No pressure, right?
Datamax and Canon can help!
To learn more, download Canon's Security Hardening Guide, intended for anyone who's concerned with the design, implementation, and securing of office MFPs within a network infrastructure.
* SOURCE: 5 Considerations for MFP Security, © 2019 Canon U.S.A., Inc.