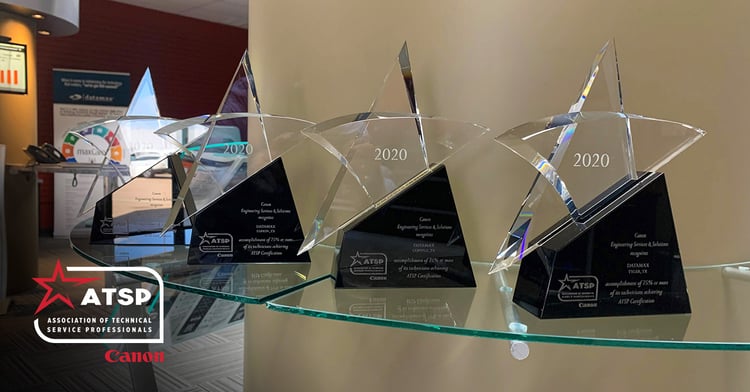 Coppell, TX (April 6, 2021) — For a year-over-year training methodology that has become routine for its service teams in Texas, the results of their efforts are anything but, as Datamax Texas recently earned an unparalleled 14th consecutive Canon ATSP Award.
This recognition includes Datamax service departments in Dallas/Fort Worth, Tyler, Longview, and Lufkin.
"After 14 years, my takeaway is that these individual technicians continue to buy in, year after year. They've seen the benefits of what this extensive training offers, and they keep running with it," Datamax Texas Vice President of Service Steve Kennemer said. "For me, it's truly a sense of pride to know that the team you have the privilege of working with is just as excited about providing top level service as you are."
The ATSP award further solidifies Datamax's commitment to rapid resolution to copier issues, and an optimal customer service experience. ATSP certification is awarded after successfully passing a series of six exams, prepared pursuant to a proprietary Canon testing method and administered by Canon U.S.A. To quality for ATSP attainment, dealerships must have 75 percent of its technicians certified.
Datamax Texas had 100 percent of its technicians certified.
In a year filled with unprecedented challenges and obstacles after businesses shut down last March due to the pandemic, Datamax service teams seized the opportunity to fill any downtime with training exercises. Beyond going through the ATSP courses and exams for 2020 certification, they revisited ones from the past. Kennemer says that his above-and-beyond training will continue to reap benefits out in the field and will only enhance the customer experience.
"When COVID hit last year, we tried to create an opportunity out of the unfortunate circumstances," Kennemer said. "Any time you can go through and refresh yourself on older materials, it gets you ready for ATSP testing and it bolsters your expertise on these Canon devices."
Datamax East Texas Service Manager Justin Harper echoes Kennemer's sentiments for technicians in Tyler, Longview, and Lufkin.
"I commend all of our technicians here, who continue to jump on board with these high expectations, and who continually want to take their training to the next level," Harper said. "That's what we push for. That's the goal. To be recognized as an elite service department."
Additionally, this ATSP certification provides Datamax priority access to Canon's Tier 3 support, bringing in the highest level of expertise for troubleshooting and faster resolution to unique Canon equipment issues a client may face.
"We congratulate you once again on your dealership's achievement and value the dedication you have demonstrated to earn this recognition in the proud tradition of the Association of Technical Service Professionals," said Leroy J. Farrell, Vice President and General Manager, Engineering Services and Solutions, Business Information Communications Group at Canon USA. "This achievement clearly demonstrates your dedication and commitment to providing superior customer service."
---
About Datamax
Datamax Inc. offers the latest equipment and solutions in technology to increase efficiency and productivity in customers' offices. Datamax Inc. has been in business for over sixty (60) years with offices in Arkansas and Texas with more than two-hundred and fifty (250) employees in two (2) states.
For the complete portfolio of Datamax products and solutions, please visit their websites at www.datamaxarkansas.com or www.datamaxtexas.com.
---
Like them on Facebook:
www.facebook.com/datamaxarkansas or www.facebook.com/datamaxtexas
Follow them on Twitter:
@datamaxarkansas or @datamaxtexas
Connect with them on LinkedIn:
www.linkedin.com/company/datamaxarkansas or www.linkedin.com/company/datamaxtexas
Direct Inquiries can be made to:
Jeff Walker
Marketing Communications Manager
Datamax Inc.
800-986-4782 | Ext: 2695
jwalker@datamaxinc.com