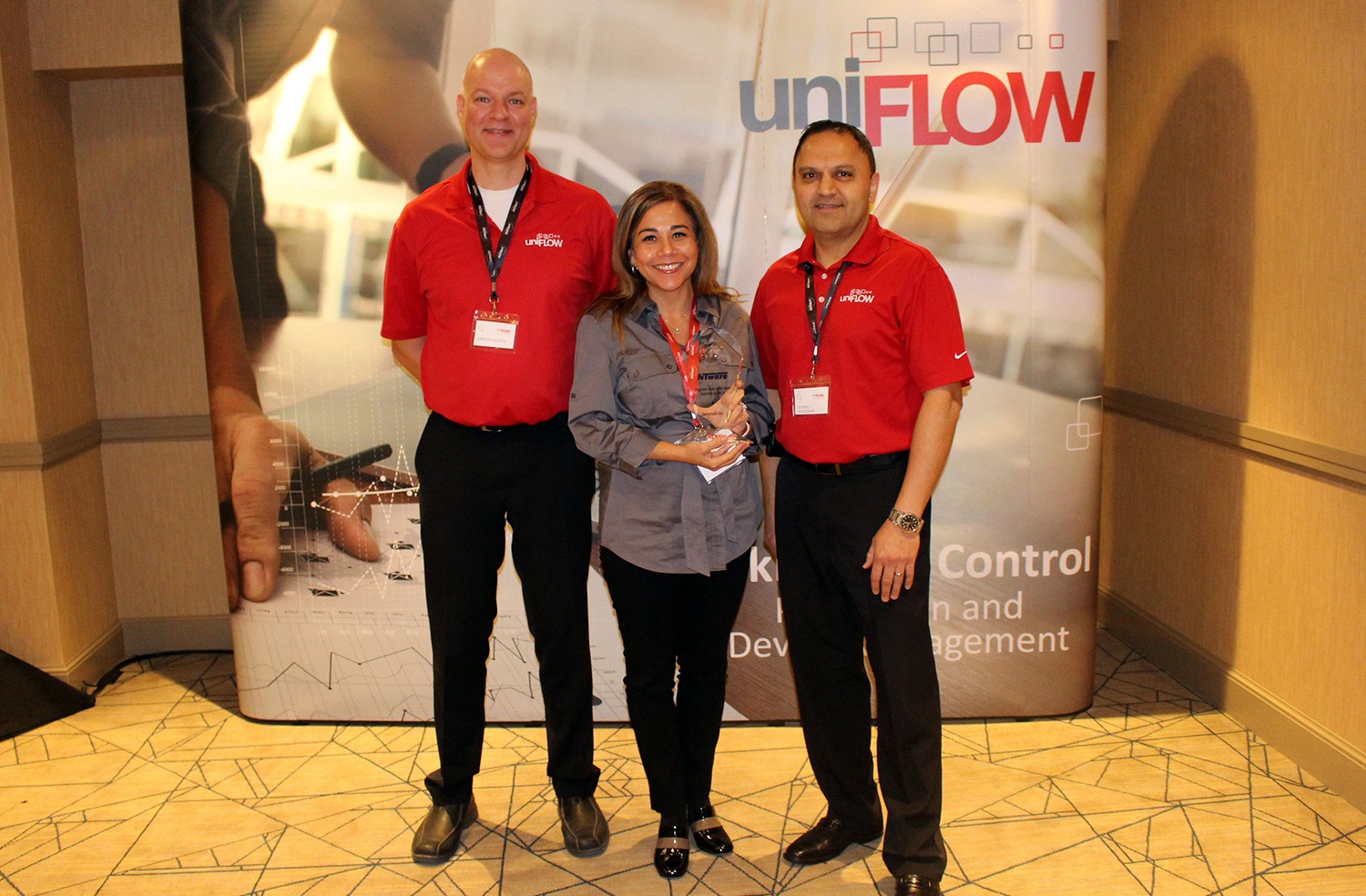 Dallas, TX, November 2018 – Datamax Inc. was recently awarded the "Highest Year Over Year Growth" Award by uniFLOW manufacturer NT-ware. The award was presented at the company's annual US uniFLOW Partner Forum 2018 held in Dallas.
uniFLOW is a Canon-based output management software that provides effective controls over a client's printer and multifunction printer (MFP) fleet. This award not only spotlights a significant achievement for the Datamax sales team, but solidifies the organization's holistic approach to understand, identify and deliver relevant solutions to its clients - not just boxes.
"This award shows our true understanding of client needs," Datamax Texas Platform Solutions Manager Rachel Rhodes said. "We're not just offering software and hardware. We're selling clients a workflow that is going to truly meet the end user needs."
uniFLOW allows users to better manage printing costs, increase office work productivity, and protect provide optimal document security throughout the organization. Datamax's achievement in delivering uniFLOW to clients in both Texas and Arkansas was a team achievement that spanned multiple departments beyond sales.
"There's a lot of effort involved with delivering uniFLOW," Rhodes said. "Obviously the account representative has to identify the correct account type. We have to do the appropriate discovery to identify what the configuration is for uniFLOW. We also had wonderful support from Canon and NT-ware throughout the process."
Datamax this year celebrated 35 years of partnership with Canon, an entity that company stakeholders site as a major contributor to Datamax's sustained success. In addition to being named to the Canon Advanced Partner Program for a fifth straight year, Datamax is also a Canon ATSP Service Provider (11 years in a row), putting it in elite company among Canon Authorized Dealerships.
About Datamax
Datamax Inc. offers the latest equipment and solutions in technology to increase efficiency and productivity in customers' offices. Datamax Inc. has been in business for over sixty (60) years with offices in Arkansas and Texas with more than two-hundred (250) employees in two (2) states.
---
Like them on Facebook: www.facebook.com/datamaxarkansas or www.facebook.com/datamaxtexas
Follow them on Twitter:
@datamaxarkansas or @datamaxtexas
Connect with them on LinkedIn:
www.linkedin.com/company/datamaxarkansas or www.linkedin.com/company/datamaxtexas
Direct Inquiries can be made to:
Jeff Walker
Marketing Communications Manager
Datamax Inc.
800-986-4782
jwalker@datamaxtexas.com