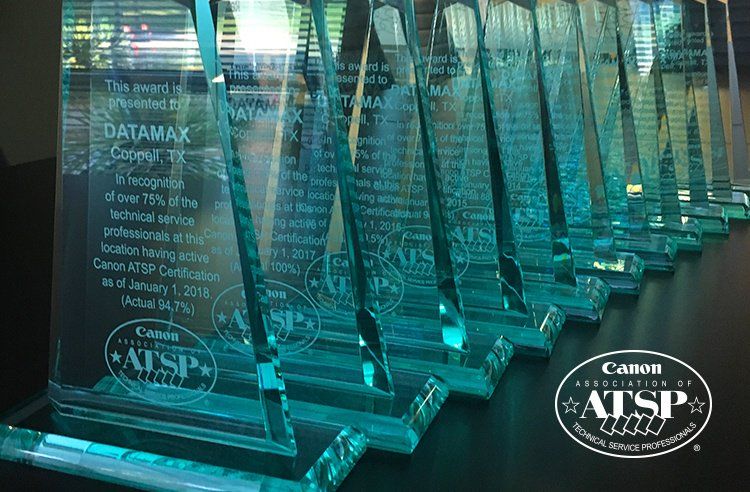 Coppell, TX, June 15, 2018 — The first iPhone was released in the United States in June 2007. That same year, Datamax began its unprecedented streak of earning one of Canon's most prestigious accolades.
Datamax Texas achieved the Association of Technical Service Professionals (ATSP) National Service Recognition Award for the 11th consecutive year from Canon U.S.A. Inc., the only dealership in the United States to do so. This decade-plus long streak confirms Datamax's elite technical support expertise and customer service performance, along with its commitment to top-level training for its technicians.
"Canon ATSP challenges our technicians to be technologically savvy. Additionally, it enhances their troubleshooting ability to solve unknown problems; hence providing exceptional service to our customers," said Steve Kennemer, Director of Service for Datamax Texas.
To qualify, dealerships must have 75 percent of their service representatives certified within the program as of January 1, 2018. The Coppell office had more than 90 percent of its technicians ATSP certified.
The ATSP program consists of six core exams, with several modules included with each exam, along with an equipment-specific test. The job function-based exams are designed to measure both the knowledge and the demonstration of the skills that are required in real-world settings for a support professional against a set of standards for competency and performance.
"On behalf of Canon USA, Inc., we congratulate you once again on your dealership's achievement and value the dedication you and your staff demonstrated to earn this recognition," said Leroy J. Farrell, Vice President and General Manager, Engineering Services and Solutions, Business Imaging Solutions Group for Canon. "This achievement is no doubt due to your company's effort at promoting the ATSP program and commitment to superior customer service, and the perseverance of your service and support staff."
As a result of our longstanding and unmatched commitment to training and expertise, for the last six months, 92.2 % of Datamax Service Calls were resolved on the first visit.
"Canon ATSP demonstrates our ability to perform. Not just talk about it," said Henry Ledee, Talent Acquisition / Training Manager at Datamax Texas. "At Datamax, we strive to create 'Raving Fans,' which ATSP contributes to greatly."
For more about Datamax and how we strive to Create Raving Fans every day, please visit us here.
---
About Datamax
Datamax Inc. offers the latest equipment and solutions in technology to increase efficiency and productivity in customers' offices. Datamax Inc. has been in business for over sixty (60) years with offices in Arkansas and Texas with more than two-hundred (250) employees in two (2) states.
---
Like them on Facebook: www.facebook.com/datamaxarkansas or www.facebook.com/datamaxtexas
Follow them on Twitter:
@datamaxarkansas or @datamaxtexas
Connect with them on LinkedIn:
www.linkedin.com/company/datamaxarkansas or www.linkedin.com/company/datamaxtexas
Direct Inquiries can be made to:
Jeff Walker
Marketing Communications Manager
Datamax Inc.
800-986-4782
jwalker@datamaxtexas.com