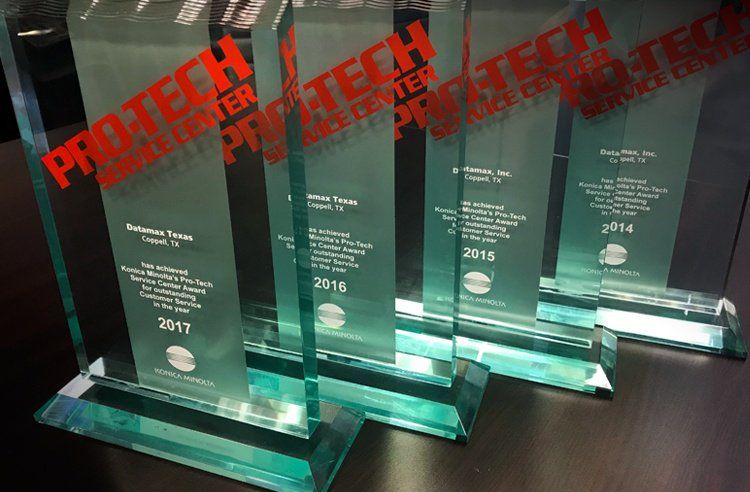 Ramsey, NJ, November 21, 2017 – Konica Minolta Business Solutions U.S.A., Inc. (Konica Minolta) today announced that Datamax Texas has been honored with a 2016 Pro-Tech Service Award recognizing their dedication and commitment to customer support and satisfaction. Pro-Tech Service Award recipients were honored at a special presentation during the company's annual dealer conference on October 4, 2017, which took place at the luxury Park Hyatt Aviara Resort, Golf Club & Spa in Carlsbad, CA.
"I congratulate 2017 winner, Datamax Texas, for their outstanding achievement," said Sam Errigo, Executive Vice President, Sales and Business Development, Konica Minolta. "This is an extraordinary distinction that recognizes the dealers that deliver the finest customer service day in and day out."
Datamax Texas is dedicated to delivering professional, reliable service and maximum performance for Konica Minolta's award-winning lines of digital imaging products. To merit the Pro-Tech standard, each element of Datamax Texas operation was evaluated, including management skills, inventory control systems, technical expertise, dispatch systems and customer satisfaction ratings.
"We have always strived to be a "Class Above" in the Service area of our business. We think it is vital to our success to be the best we can be and winning this award compliments that culture. I want to thank all of our Service Personnel on all the extra hours it took to accomplish this award." says David Rhodes, President, Datamax Texas.
Press Contact:
Kristina Marchitto, Public Relations Manager
Konica Minolta Business Solutions U.S.A., Inc.
+1 201.236.4399, kmarchitto@kmbs.konicaminolta.us
---
About Konica Minolta
Konica Minolta Business Solutions U.S.A., Inc. is reshaping and revolutionizing the Workplace of the Future™ (www.reshapework.com). With our comprehensive portfolio, we deliver solutions to leverage mobility, cloud services, and optimize business processes with workflow automation. Our All Covered IT Services division offers a range of IT strategy, support, and network security solutions across all verticals. Konica Minolta has been recognized as the #1 Brand for Customer Loyalty in the MFP Office Copier Market by Brand Keys for 10 consecutive years and is proud to be ranked on the Forbes 2017 America's Best Employers list. Konica Minolta, Inc. has been named to the Dow Jones Sustainability World Index for five years in a row. We partner with our customers to give shape to ideas and work to bring value to our society. Follow Konica Minolta on Facebook, YouTube, and Twitter @KonicaMinoltaUS.
---
About Datamax
Datamax Inc. offers the latest equipment and solutions in technology to increase efficiency and productivity in customers' offices. Datamax Inc. has been in business for over sixty (60) years with offices in Arkansas and Texas with more than two-hundred (200) employees in two (2) states.
---
Like them on Facebook:
www.facebook.com/datamaxarkansas or www.facebook.com/datamaxtexas
Follow them on Twitter:
@datamaxarkansas or @datamaxtexas
Connect with them on LinkedIn:
www.linkedin.com/company/datamaxarkansas or www.linkedin.com/company/datamaxtexas
Direct Inquiries can be made to:
Robert Caldwell
Vice President, Marketing
Datamax Inc.
800 Freeport Parkway, Suite 400, Coppell, TX 75019
800-633-1526 | Ext: 5414
rcaldwell@datamaxtexas.com