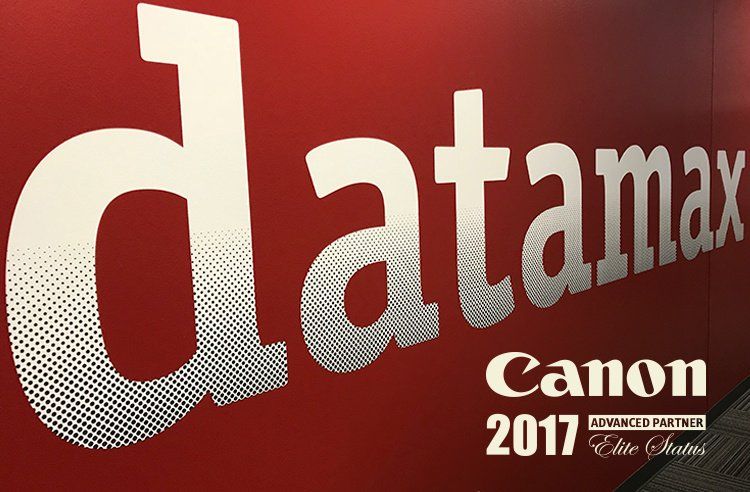 Coppell, TX, March 15, 2017 — Datamax Inc. is pleased to announce that they have achieved Advanced Partner Status with Canon U.S.A. for 2017.
The Canon Advanced Partner Program recognizes the very best in the dealer community with less than 10% qualifying for this elite distinction. Qualifying for this program is contingent on providing high-quality products and solutions with high-quality service and business practices.
"With the Advanced Partner Program we can take our relationship and your business to the next
level. The program offers support and tools to help your business succeed such as priority product
and service training, access to Canon senior-level management, sales support tools and enhanced
ordering support," says Toyotsugu Kuwamura, Executive Vice President and General Manager
Business Imaging Solutions Group, Canon U.S.A.
"We are proud to receive Advanced Partner designation from Canon for the 4th consecutive year," says Barry Simon, President, Datamax Inc. "We value our 35 year relationship with such an innovative organization and look forward to our continued partnership."
Datamax Inc. is a market leader in providing comprehensive consulting, service, and support for cost-effective technology-based solutions that improve organizational workflow. In operation for over 60 years, Datamax Inc. enjoys offices in Arkansas and Texas with more than 210 employees.
---
About Datamax
Datamax Inc. offers the latest equipment and solutions in technology to increase efficiency and productivity in customers' offices. Datamax Inc. has been in business for over sixty (60) years with offices in Arkansas and Texas with more than two-hundred (200) employees in two (2) states.
---
Like them on Facebook:
www.facebook.com/datamaxtexas or www.facebook.com/datamaxarkansas
Follow them on Twitter:
@datamaxtexas or @datamaxarkansas
Connect with them on LinkedIn:
www.linkedin.com/company/datamaxtexas or www.linkedin.com/company/datamaxarkansas
Direct Inquiries can be made to:
Robert Caldwell
Vice President, Marketing
Datamax Inc.
800 Freeport Parkway, Suite 400, Coppell, TX 75019
800-633-1526 | Ext: 5414
rcaldwell@datamaxtexas.com