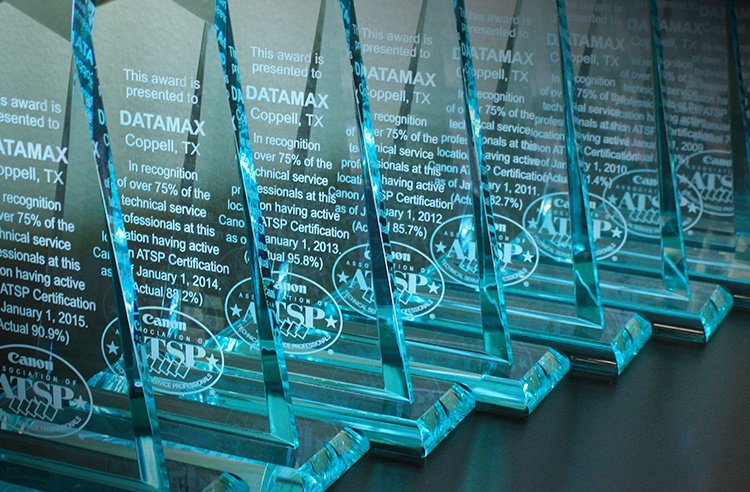 Coppell, TX, February 10, 2017 — Datamax is pleased to announce that they have achieved the Association of Technical Service Professionals (ATSP) National Service Recognition Award for the 10th consecutive year from Canon U.S.A. Inc.
As conveyed the recognition letter by Leroy J. Farrell, Vice President and General Manager Engineering Services & Solutions Division, Business Imaging Solutions Group of Canon U.S.A., "It is with pride that Canon's Association of Technical Service Professionals program recognizes your dealership's Coppell, TX location for having over 75% of its service representatives certified within the program as of January 1, 2017. This achievement is no doubt due to your company's effort at promoting the ATSP program and commitment to superior customer service, and the perseverance of your service and support staff."
The (ATSP) program challenges Canon Authorized Dealership technical support professionals to confirm their skills and knowledge utilized in the support of Canon Office Imaging Products through a series of exams based upon job functions or role within an organization. The job function-based exams are designed to measure the knowledge and the demonstration of the skills that are required for a support professional against a set of standards for competency and performance. Successful completion of a specific ATSP exam results in Certification of the competencies associated with the specific job function. When a client sees the Canon ATSP logo, they can be assured that the technical support professional responding to their call has the highest industry standard of service certification and manufacturer-backed training to effectively solve any problem.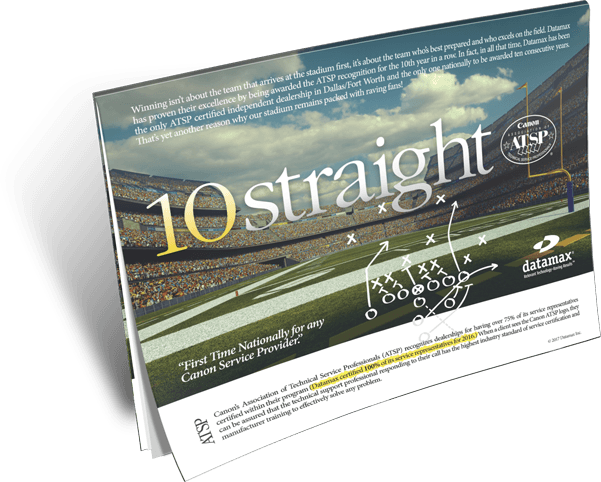 "Becoming the only Canon Solution Provider in the Dallas/Ft. Worth Metroplex to achieve ATSP National Service Recognition Award in each of the last ten years represents a proud moment for our organization. It clearly validates our efforts and commitment to provide superior service and an enhanced total client experience. Earning this recognition for a tenth consecutive year, the first time nationally for any Canon Service Provider, really speaks to who we are," says Henry P. Ledee Jr., Service Training Manager at Datamax.
For more information regarding Datamax's (ATSP) National Service Recognition from Canon U.S.A., please contact Henry P. Ledee Jr. at hledee@datamaxtexas.com.
---
About Datamax
Datamax Inc. offers the latest equipment and solutions in technology to increase efficiency and productivity in customers' offices. Datamax Inc. has been in business for over sixty (60) years with offices in Arkansas and Texas with more than two-hundred (200) employees in two (2) states.
---
Like them on Facebook:
www.facebook.com/datamaxtexas or www.facebook.com/datamaxarkansas
Follow them on Twitter:
@datamaxtexas or @datamaxarkansas
Connect with them on LinkedIn:
www.linkedin.com/company/datamaxtexas or www.linkedin.com/company/datamaxarkansas
Direct Inquiries can be made to:
Robert Caldwell
Vice President, Marketing
Datamax Inc.
800 Freeport Parkway, Suite 400, Coppell, TX 75019
800-633-1526 | Ext: 5414
rcaldwell@datamaxtexas.com