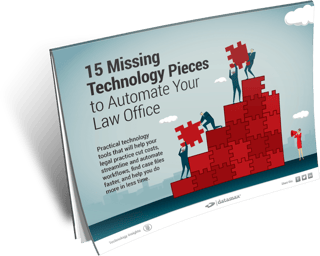 "YOU" are you the glue holding your practice together ...
... but you could use a little help. It's hard to keep up with technology that could run your law firm better when you're juggling everyone's pressing issues all day, every day.
But there's only one of you - and there's only so much you can take on.
Here's help!
We've created this short guide to fill you in on what you might be missing - 15 technology pieces that can help automate your law firm.
You need practical solutions for your team that get the job done faster. The simple solutions outlined in this guide will help you automate work for your law firm.
Here's a peek at what you'll discover inside:
Print Rules: Control print output for security and trimming costs
Document Management: No more lost paper files
Forms Processing: Stop error-prone manual data entry
Cost Recovery: Painless client chargebacks
and more!
Take a few minutes to review today so that you can save hours later.