Are you fanatical about your current copier service experience? ...
or just flat frustrated?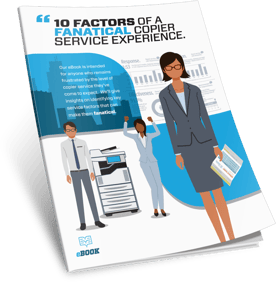 Whether it's a technician scratching his or her head about an issue they've "never seen before," you wondering when they'll arrive or how to get someone on the phone, or just the extended, frequent downtime that's costing you profits and productivity, we understand the frustration.
That's why created this eBook — to offer insights on identifying several service factors that you can take back to your coworkers and help flip being truly frustrated to being a true fanatic.
A few factors we'll explore in the eBook:
Technician Preparation and IQ

: How can you measure a technician's equipment IQ?

Resolution Target:

A fast response time is admirable. But what about resolution?

Actionable Feedback:

They say they "appreciate your feedback." But what actions follow?
Ready to start your journey to fanatical service? Fill out the form to get your eBook!